Cheesy Chicken Crepes Recipe
How to make crepes ? One of the easy chicken recipes. Salam and greetings, from among various chicken recipes, we suggest crepes as a unique Breakfast Idea Cheesy Chicken Crepes Recipe . It is the best of Shredded chicken recipes.
Chicken Crepes are crepes stuffed with a meaty chicken filling that are served as a main meal. These simple chicken crepes are packed with chicken, spices, and cheese before being folded into pocket squares! Top with a fresh assortment of sauces. There are not many crepes near me so I opted to make it at home :).
Crepe recipes differ. Some recipes ask for a few eggs (I'll just use two), while others call for over a dozen. The more eggs in a crepe batter, the stretcher the crepe.
Before we get started on our Chicken Crepes Recipe, let's go through the ingredients.
Ingredients :
🥞 1 Tsp Of Clarified Butter
🥞 100 Grams Of Chicken ( Boiled And Shredded )
🥞 2 ½ Tbsp Of Yoghourt
🥞 ¼ Tsp Of Salt
🥞 ¼ Tsp Of Ginger Powder
🥞 ¼ Tsp Of Garlic Powder
🥞 ¼ Tsp Of Black Pepper
🥞 ¼ Tsp Of White Pepper
🥞 ¼ Tsp Of Dry Oregano
🥞 1 Tsp Of Paprika Powder
🥞 ½ Tsp of Worcestershire Sauce
🥞 ½ Tsp of Soya Sauce
🥞 ½ Tsp of Red Chili Sauce Crepes
🥞 2 Eggs
🥞 2 Tbsp of Melted Butter
🥞 1 ⅓ Cup of Milk
🥞 1 Cup of All Purpose Flour
Assembling
🥞 Crapes
🥞 Chicken filling
🥞 MOZZARELLA CHEESE
Making Yummy Cheesy Chicken Crepes Step by Step:
How to Make Chicken Filling:
We'll start by creating a chicken filling for crepes. I used a flat pan with 1 tablespoon of clarified butter and 100 g of boiled and shredded chicken. After a few seconds, I added 2 ½ tablespoons of yogurt ( I call it game changer ingredient in this recipe). Please combine the yogurt and chicken at this point before adding the seasonings. ¼ teaspoon salt, to taste, since it might get more salty owing to the cheese at a later stage. ¼ teaspoon ginger powder and ¼ teaspoon garlic powder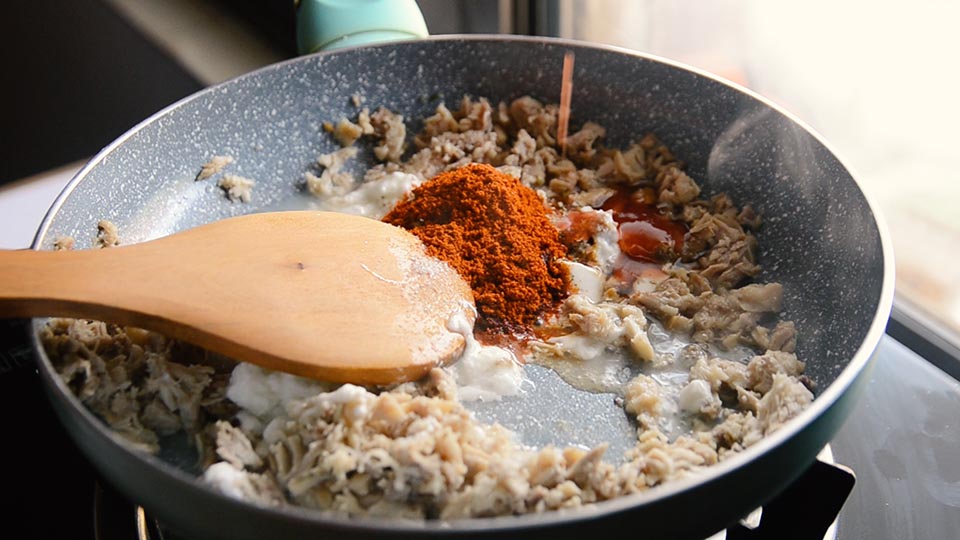 ¼ tsp black pepper, ¼ tsp white pepper, ¼ tsp dry oregano, 1 tsp paprika powder, ½ tsp Worcestershire sauce, ½ tsp soy sauce, ½ tsp red chili sauce At this point, we will thoroughly combine all spices with the chicken.
Crepe Making:
Now that the chicken filling is finished, it's time to prepare crepes. So we'll start with two eggs and beat them well before adding any seasonings. 2 tablespoons melted butter, 1 ⅓ cup milk, a teaspoon of salt, and 1 cup all-purpose flour This egg combination will demand patience to whisk since the flour will thicken the substance at first and then settle down afterwards.
Heat the pan over medium heat so that the crepes do not burst right away. Pour the material onto a flat pan and cook from one side before flipping and cooking from the other.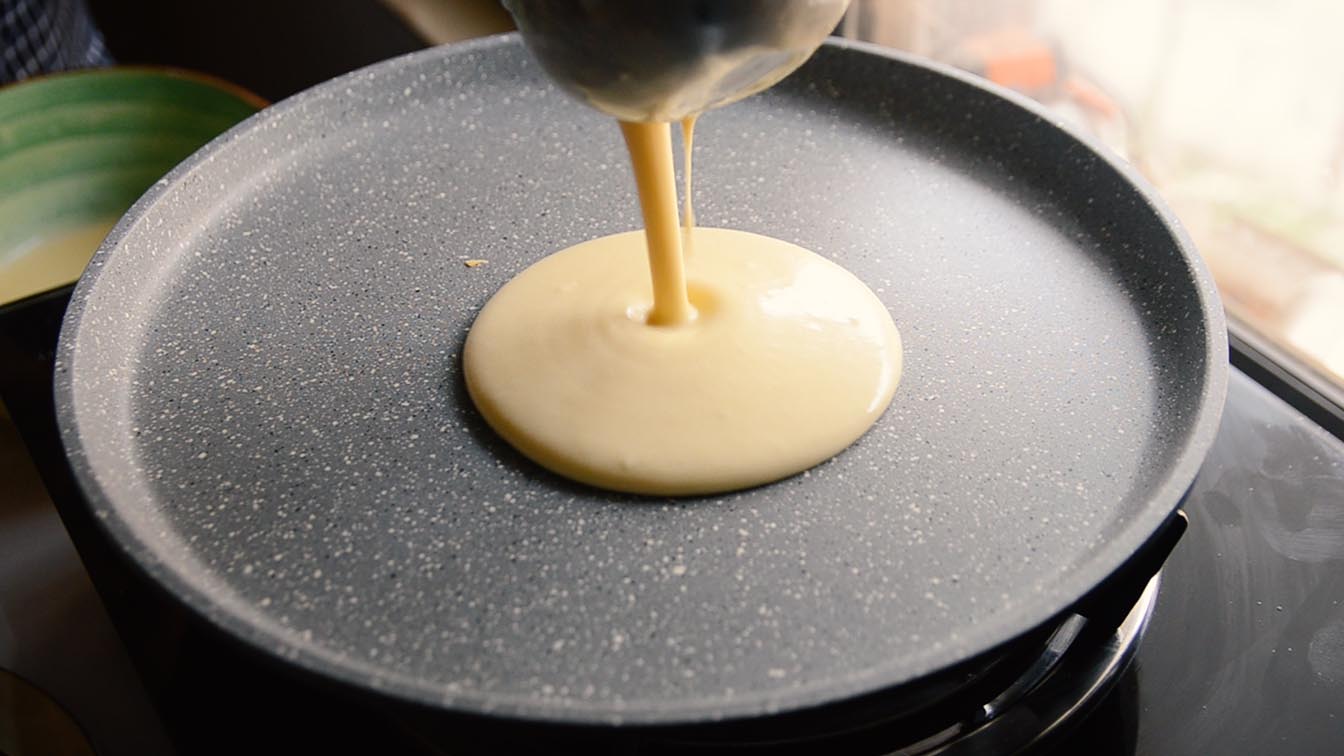 Make sure the crepes are not overcooked since we will be folding them with chicken filling.
Cooking and final assembly:
In the previous step, the chicken filling was prepared; now, place the chicken filling in the middle of the crepe. It's up to you how much cheesy you want it.
Please fold the crepes so that they form a square with the chicken filling in the middle. Remember that we did not completely cook the crepes in the previous cooking level since we will be heating them further and forming both sides; this will also assist the cheese inside to melt properly.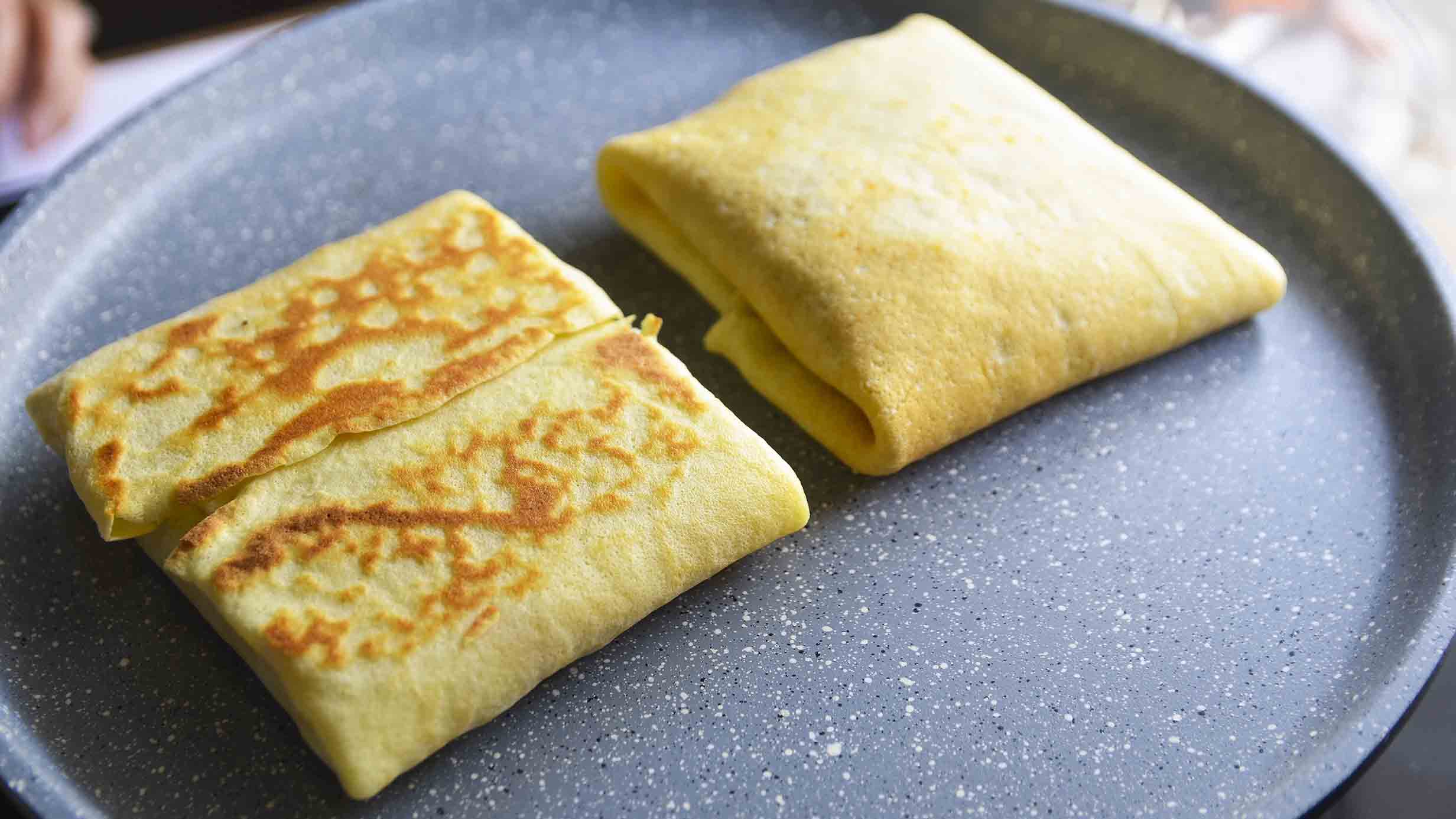 Yummy Cheesy Chicken Crepes are ready to serve after both sides have been cooked; in my opinion, they taste best when served fresh.
I hope you like this recipe. Good day, and consider us your Taste Partners.
Recipe Modifications:
You may substitute cheddar cheese for the mozzarella cheese that I used. I'll also attempt process cheese slice one day.
Not only can you use chicken filling, but you can also use beef or mutton mince. Cook it to your liking and enjoy it. The ingredients I used in my Juicy Beef Burger recipe may be used here.
Aside from meat, you may also use potato filling, which I prepared in Crispy Potato Quesadillas.
We may also include other veggies in our fillings, such as red and yellow bell peppers or green capsicum. You may also add black olives for extra flavor.
#chickencrepes #crepes #easybreakfast
Sign Up and be our Partners in Taste
Please Subscribe to our YouTube Channel if you liked this Cheese Omelet Break Fast Recipe Also Click the BELL icon so you can be the first one to get notification of Taste with Taj new video). Thank you for signing up. It means a lot to me.
Filming and Post Processing :
Gallery pictures