Crispy Potato quesadilla | Cheese Potato Tacos | Mashed Potato Quesadilla
Salam and greetings everyone hope you guys are doing great. Today we are going to try homemade dominos style Crispy Potato Tacos also known as Mashed Potato Quesadilla. It is Mexican cuisine as we are from the subcontinent and never tried such a dish before so we decided to make a delicious taco Mexicana recipe.
Love mashed potatoes? Then you're really going to love them loaded with melty cheese, wrapped inside of a tortilla, and fried to crispy, golden perfection. These authentic Potato Tacos are crunchy on the outside, and light, fluffy potato heaven on the inside.
Let's see what ingredients we need to make Crispy Potato Tacos Recipe:
🌮 WHITE PORTION OF GREEN ONIONS 3-4
🌮 BUTTER 1 TBSP
🌮 2 PINCHES OF SALT
🌮 1/2 TSP OF CHILI PEPPER POWDER
🌮 1/2 TSP TURMERIC
🌮 2 TBSP OF WATER
🌮 4 BOILED POTATOES ( MEDIUM SIZE )
🌮 GREEN PORTION OF GREEN ONION
🌮 CHEDDAR CHEESE
🌮 COOKED ONIONS
🌮 4 TORTIAL LARGE SIZE
🌮 CHILI GARLIC SAUCE
🌮 MAYONNAISE
🌮 MOZZARELLA CHEESE
🌮 POTATO FILLING
🌮 MOZZARELLA CHEESE
🌮 1 TBSP BUTTER
Instructions to prepare Homemade Dominos Style Taco Mexicana
These crispy, fried tacos are made with corn tortillas and a filling of mashed potatoes and shredded cheese. Once assembled, they're pan-fried in butter and can be served as an appetizer or a main dish.
The filling is very similar to mashed potatoes, but because you want the filling to be fairly thick, there really is no need for butter or milk.
Making Potato Filling:
As usual we will start by cutting vegetables so it's time to cut White portion of 3-4 green Onions. Make sure we cut everything in small pieces possible. you knew we focus on ASMR sounds in our recipes video which gives a great feel.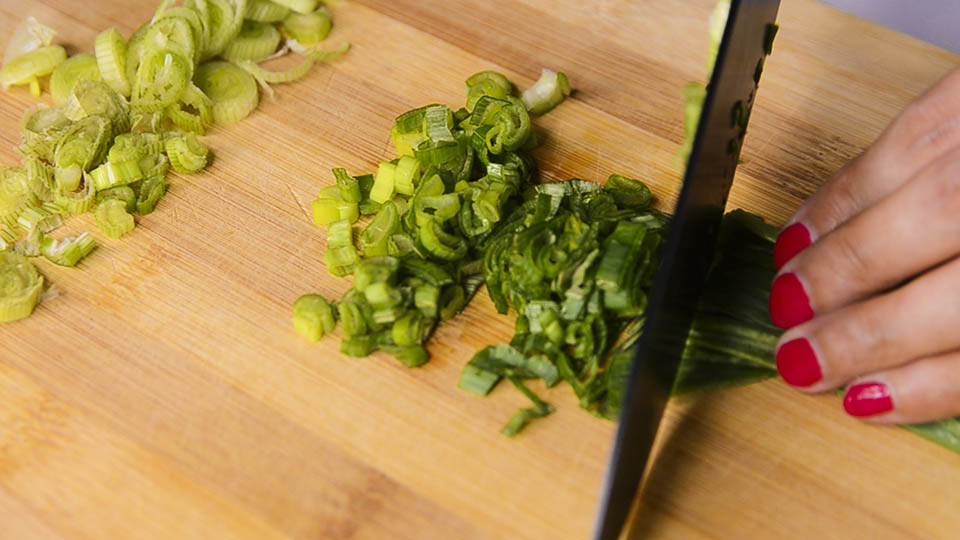 Then shallow fry these cut white portion of green onions with 1 Tbsp of butter in pan. This is a main taste ingredient, once onions are soft little bit we can start adding spices in them i.e 2 pinches of Salt, 1/2 Tsp of Chili pepper powder, 1/2 Tsp of Turmeric.
Take 4 Boiled Potatoes (medium sized) and mash them with force, to make them fine you always need Hulk powder hehe!
Cut some green portion of green onions in similar way of small pieces and add them to mashed potatoes. Its time to add cheddar cheese best is to shred this cheese straight away.
Ultimately add cooked onions into mashed potatoes material and mix it well.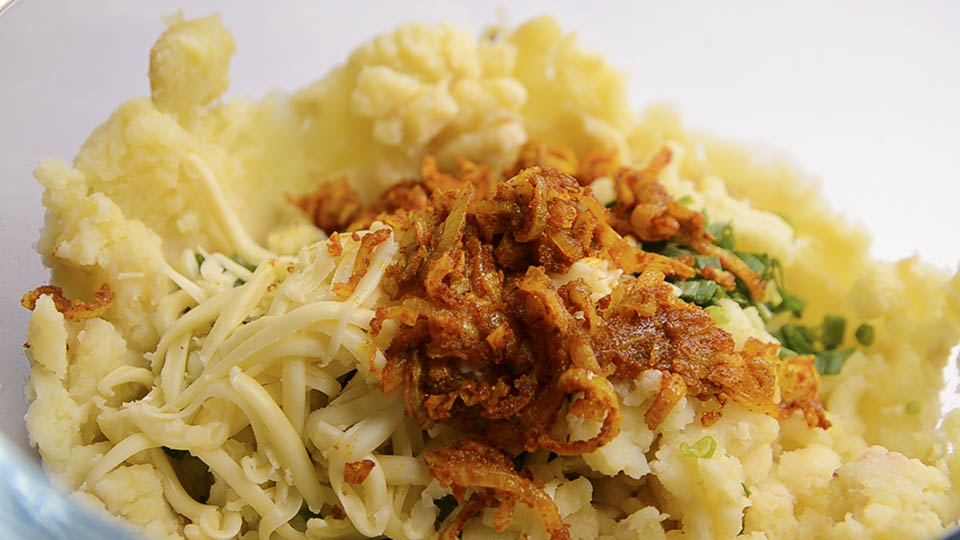 Tortilla Base:
We will be using large size Tortilla as a base here, apply chili garlic sauce followed by mayonnaise. Make sure to mix them both well or you can do this exercise it by mixing sauce and mayonnaise in mini blow and then apply on tortilla just like we did in our Juicy Beef Burger. Top it with Mozzarella Cheese.
Assembly of Crispy Potato Tacos:
As we have tortilla base ready in previous stage now we will add mashed potato material we made in our early stage of recipe. Again add mozzarella cheese on top of potato filling. Fill potato stuff in half portion of tortilla because we need to flip the half way with stuffed filling. I suggest pressing the filling from one open side so it may settles down and not come out while frying.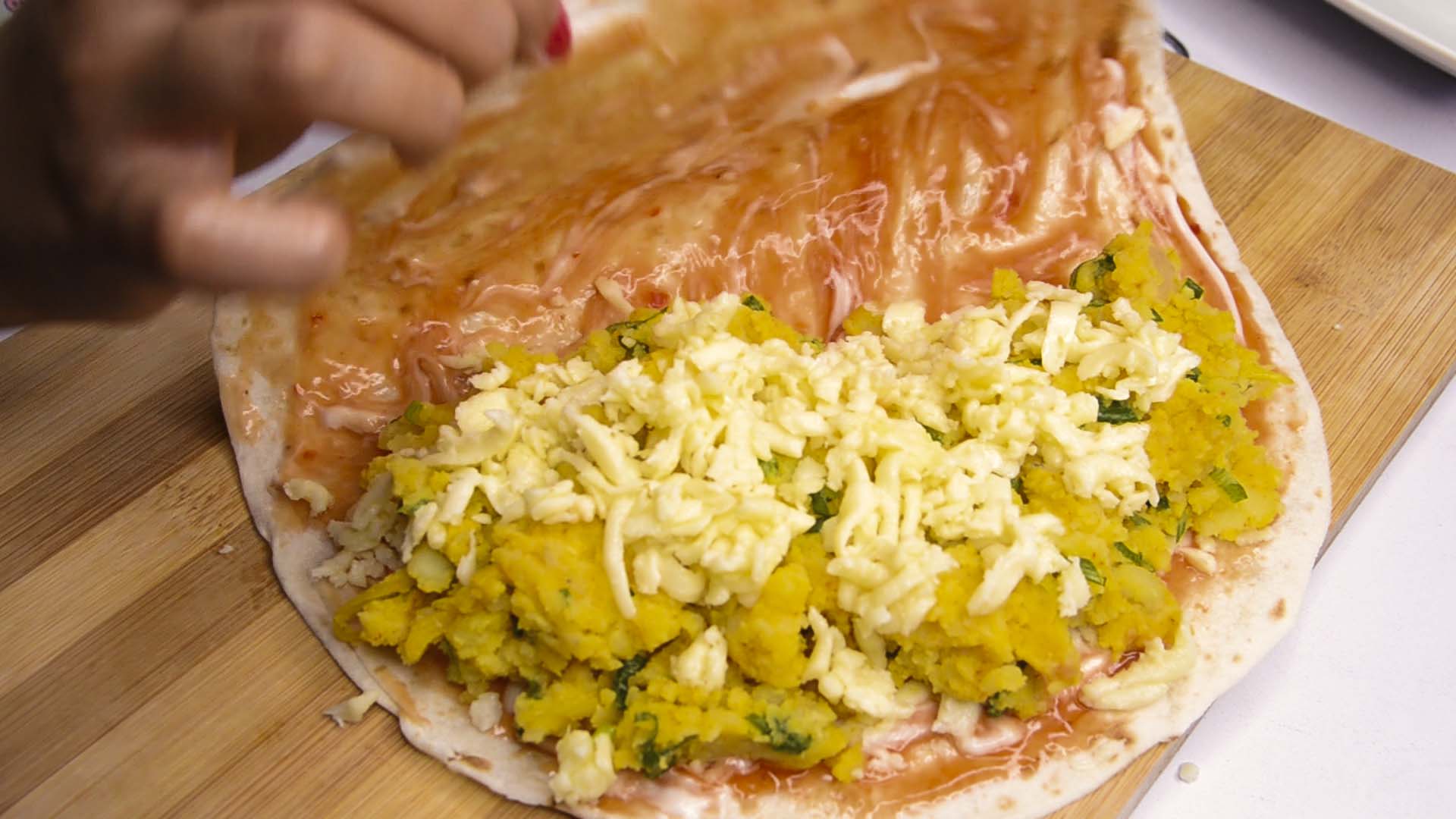 Shallow Fry Tacos:
Apply 1 Tbsp of butter in the pan and melt it little bit. Use low heat so we can make tortilla little bit brown from out side and keep melting cheese from inside as we have no worries about cooking inside potato filling.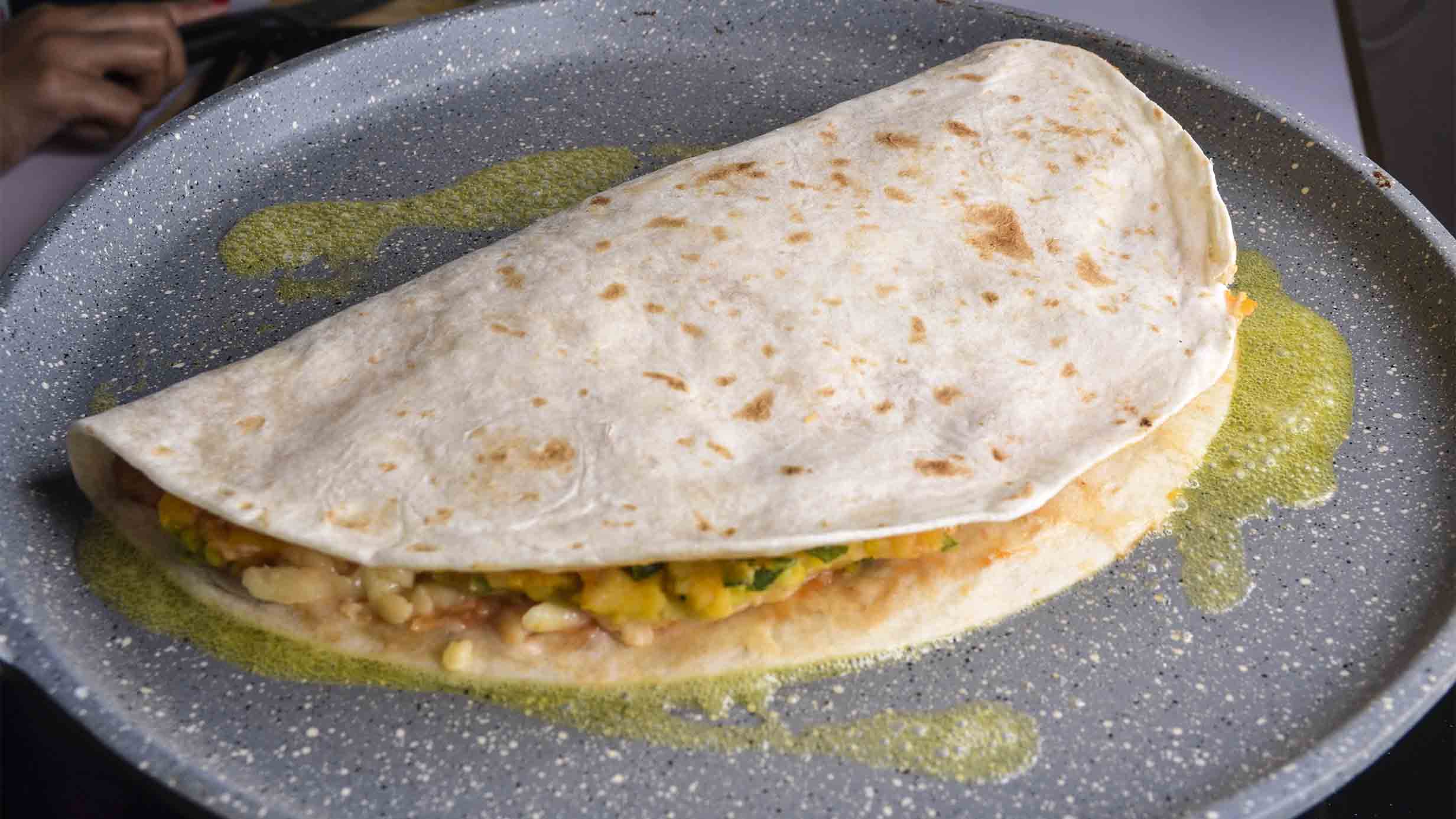 Finally Crispy Potato Tacos Recipe is ready Alhamdulillah and ready to serve.
#Potato taco #Cheese Potato Taco #Taco Mexicana #Cheese Potato Quesadilla
Sign Up and be our Partners in Taste
Please Subscribe to our YouTube Channel if you liked this Crispy Potato Tacos recipe Also Click the BELL icon so you can be the first one to get notification of Taste with Taj new video). Thank you for signing up. It means a lot to me.
#tastewithtaj #Breakfast #eggs #How To
Filming and Post Processing :
Gallery pictures