Burger King Style Fast Food Beef Burger
Salam / Hello everyone, I hope everything is well with you. Today, Taste with TJ brings you a delicious Fast Food Beef Burger similar to Burger King. There are several fast food restaurants near me, but since I am constantly concerned about food cleanliness, I prefer home-cooked fast food.
This Beef Burger will remind you of a Burger King burger, and there's a good reason for that: the tender beef patty melts in your tongue. The ingredients in this Juicy beef burger are so distinctive that they will take your taste senses to the next level:).
If you follow the directions exactly, you will have the Ultimate Juicy Burger Recipe, and you will have great burgers every time, Inshallah.
To begin with, as previously said, I wanted a flavorful burger, which meant I needed to add some spices. There's garlic in there, Worcestershire sauce for a bite, and egg, yogurt, and breadcrumbs for texture.
We're providing our greatest secrets, tips, and tactics for creating the ultimate restaurant-quality burger like Burger King, from the juiciest patty to the tastiest burger buns and burger sauces. If you try them, you'll be recognized for your burgers!
Beef is wonderful on its own; it is a high-quality protein that is soft, juicy, and full of natural taste. You don't need a tonne of seasonings or you'll simply be concealing the taste of the beef.
There will be no complaints in your home if you make this burger recipe! The most juicy and tasty burgers I've ever tasted.
Beef Burger Ingredients
For Beef Patty
1 Kg OF BEEF
1 (Medium) ONION
2 EGGs
250 gms OF MOZZARELLA CHEESE
2 Slices of BREADCRUMBS
3 Tbsp of WORCESTERSHIRE SAUCE
3 Tbsp of YOGURT
½ Tsp of BLACK PEPPER
½ Tsp of SALT
1 Tsp of GINGER
1 Tsp of GARLIC
For Sauce
5 Tbsp of MAYONNAISE
3 Tbsp of GREEN CHILI SAUCE
For Burger
CLARIFIED BUTTER for frying
BUNS
CHEESE SLICES
Beef Burger Preparation Instructions
Preparing Onion Components:
Add clarified butter for frying, followed by 1 medium chopped onion. Add 1 tsp garlic and ginger paste at this time. Begin cooking it and wait for the onion material to cool to room temperature before mixing it with the beef patty material. Keep an eye on the onions; if they burn, the scent will permeate the finished burger. So, prepare and set away the onions for later.
Preparing Beef for Marination:
1 kg beef mince, 1/2 teaspoon salt, 1/2 teaspoon black pepper, and some clarified butter 3 tablespoons yoghurt and 3 tablespoons Worcestershire sauce The recipe's turning point is the addition of 250 grammes of Mozzarella Cheese to the beef mixture. Now, for a richer flavour, add a couple of eggs. Mix everything well to ensure that everything is fully blended. Add bread crumbs to assist the beef patty keep together; if the beef material is moist, add additional bread crumbs.
Marinate it in the refrigerator for at least 30 minutes; if you can stretch it to an hour, that would be fantastic.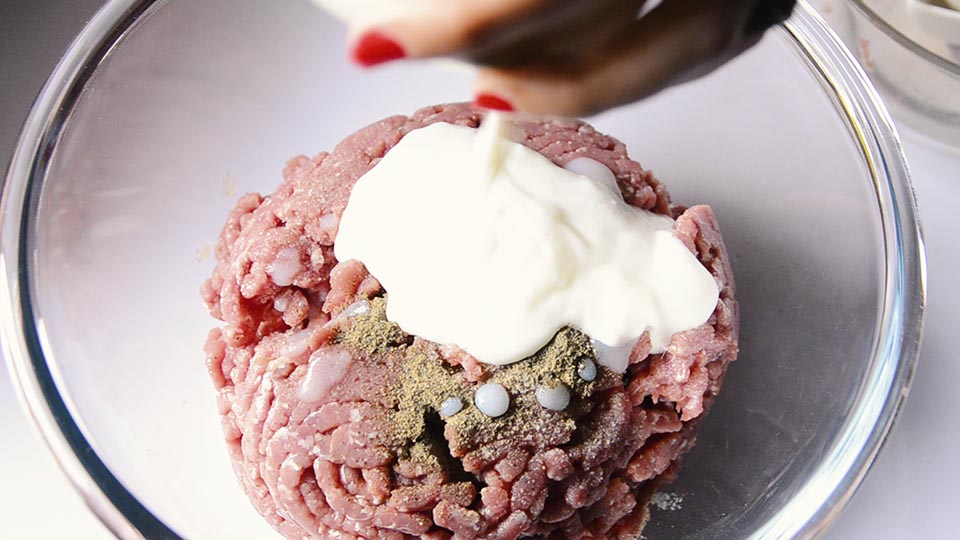 Patty Preparation and Cooking:
Begin creating the burger patties after the marinating process is complete. We need big patty size here since it will shrink regardless, and beef burgers usually have thick patty.
It is now time to fry the beef burger patties. Medium heat is the key here; you would believe that a high flame is necessary due to the thick patty, but no, medium heat is essential.
Because I only had a medium-sized pan, I cooked one patty at a time, concentrating on cooking from the inside out. So the outside may not burn, but the internal beef should be fully cooked. If you want a completely cooked patty, you'll need a patty weight or something to keep the patty pressed for a well-cooked inside. Also, the frying pan you use for the patty should be nonstick; else, the mozzarella cheese will adhere to it.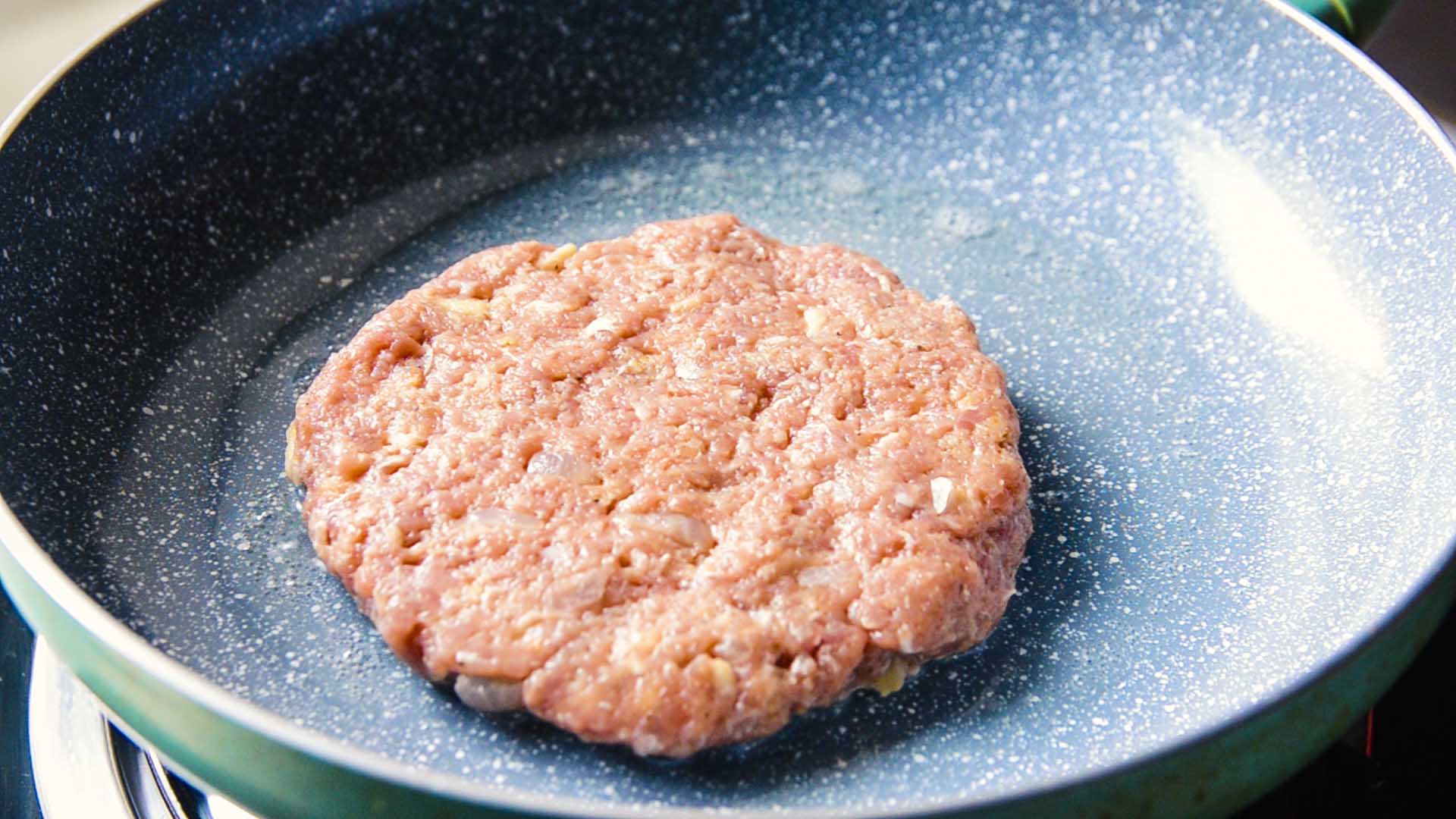 When the patty is done, place a slice of cheese on top of it while it is still in the pan so the cheese melts with the heat. While writing this dish, my mouth was watering.
Assembling the Burger:
Make a customized sauce by combining 3 tablespoons green chili sauce and 5 tablespoons mayonnaise.
Toast the buns on both sides in the same skillet where we are preparing the beef patty for a familiar flavor.
When the buns are finished, coat them with the newly produced special sauce, then top them with the beef patty and the top portion of the bread. Trust me, the Ultimate Juicy Beef Burger is ready, and you will forget about the top-tier restaurant-style burgers after the first taste of the Beef Burger.
Common Queries:
Can we freeze beef patties to use later?
Yes, we can freeze them right immediately for future burger snacks or if you want to have them as a meal.
Can we change the topping?
Yes, you may use tomatoes, salad leaves, or anything else that adds taste. But, since I wanted to enjoy the flavor of the beef, I kept it simple.
Is the temperature of the ingredients important?
To ensure that everything combines uniformly, the meat and all other ingredients should be at room temperature while making burgers. Allow the ground beef to come to room temperature before putting everything together.
Is it necessary to chill the patty again before cooking?
Even though your marinated material was cooled in the refrigerator, chilling your burger patties in the fridge for approximately 30 minutes before grilling helps them remain together, preserve their form, and stay delicious and juicy!
That's all there is to today's recipe.
Sign Up and be our Partners in Taste
Please Subscribe to our YouTube Channel if you liked this Beef Burger recipe Also Click the BELL icon so you can be the first one to get notification of Taste with Taj new video). Thank you for signing up. It means a lot to me.
#tastewithtaj #Breakfast #eggs #How To
Filming and Post Processing :
Gallery pictures