Chicken Recipe Healthy Chicken Shashlik
Hello / Salam everyone, I hope everything is well with you. Today we bring you another healthy meal called Healthy Chicken Shashlik Recipe. Nothing is deep fried, and veggies are included, so this is really restaurant-style healthy meals.
We're going to prepare it just as we cooked the delicious Turkish Kebab. Chicken Shashlik may be served with rice or gravy. Some sauces are added during the marination process, but you may serve with whatever you choose, such as Mint Sauce.
We know you're wanting it right now, so we've included some simple instructions for making your own chicken shashlik meal for personal enjoyment or any other gathering plans.
Before we go any further, let's go through everything we'll need to prepare this Chicken Shashlik.
Ingredients :
🐓🍢 GREEN CAPSICUM
🐓🍢 YELLOW AND RED BELL PEPPER
🐓🍢 ONION ( Medium Size )
🐓🍢 1 Tbsp of CHILI GARLIC SAUCE
🐓🍢 1 Tsp + 2 Tsp COOKING OIL
🐓🍢 ½ Tsp CUMIN POWDER
🐓🍢 ½ Tsp GARAM MASALA
🐓🍢 ½ Tsp CORIANDER POWDER
🐓🍢 ½ Tsp BLACK PEPPER
🐓🍢 1 Tsp GARLIC PASTE
🐓🍢 1 Tsp GINGER PASTE
🐓🍢 1 Tsp RED CHILI SAUCE
🐓🍢 1 Tbsp SOYA SAUCE
🐓🍢 ½ Tsp SALT
🐓🍢 ½ Tsp RED CHILI POWDER
🐓🍢 250g of BONELESS CHICKEN
Composition:
Cooking Instructions for Chicken Recipe:
When we speak about sophisticated dishes, we must include a savoury and delectable dish that everyone enjoys, and that is the CHICKEN SHASHLIK RECIPE. Wow! It's such a strange term that it makes our lips wet.
The term shashlik came into English from the Russian shashlyk, which is of Turkish origin. It spread to Russia in the 18th century and then to England and other European nations. Originally, shashlik was cooked from lamb, but there are now alternative choices available depending on religious observances. This thick and tasty-looking stew is served stitched on a sleek stick with a slew of prepared veggies on the side.
Procedure for Marinating Chicken:
We'll start with 250 grams of boneless chicken, followed by spices such as 12 teaspoon SALT, 12 teaspoon RED CHILI POWDER, 12 teaspoon GARAM MASALA, 12 teaspoon CUMIN POWDER, 12 teaspoon CORIANDER POWDER, 12 teaspoon BLACK PEPPER, 1 teaspoon GARLIC PASTE, 1 teaspoon GINGER PASTE, 1 teaspoon RED CHILI SAUCE, 1 teaspoon SOYA SAUCE, 1 teaspoon + 2 teaspoon COOKING OIL,
Then combine thoroughly and marinate for half an hour; additional marinating time is ok.
Vegetables, cut: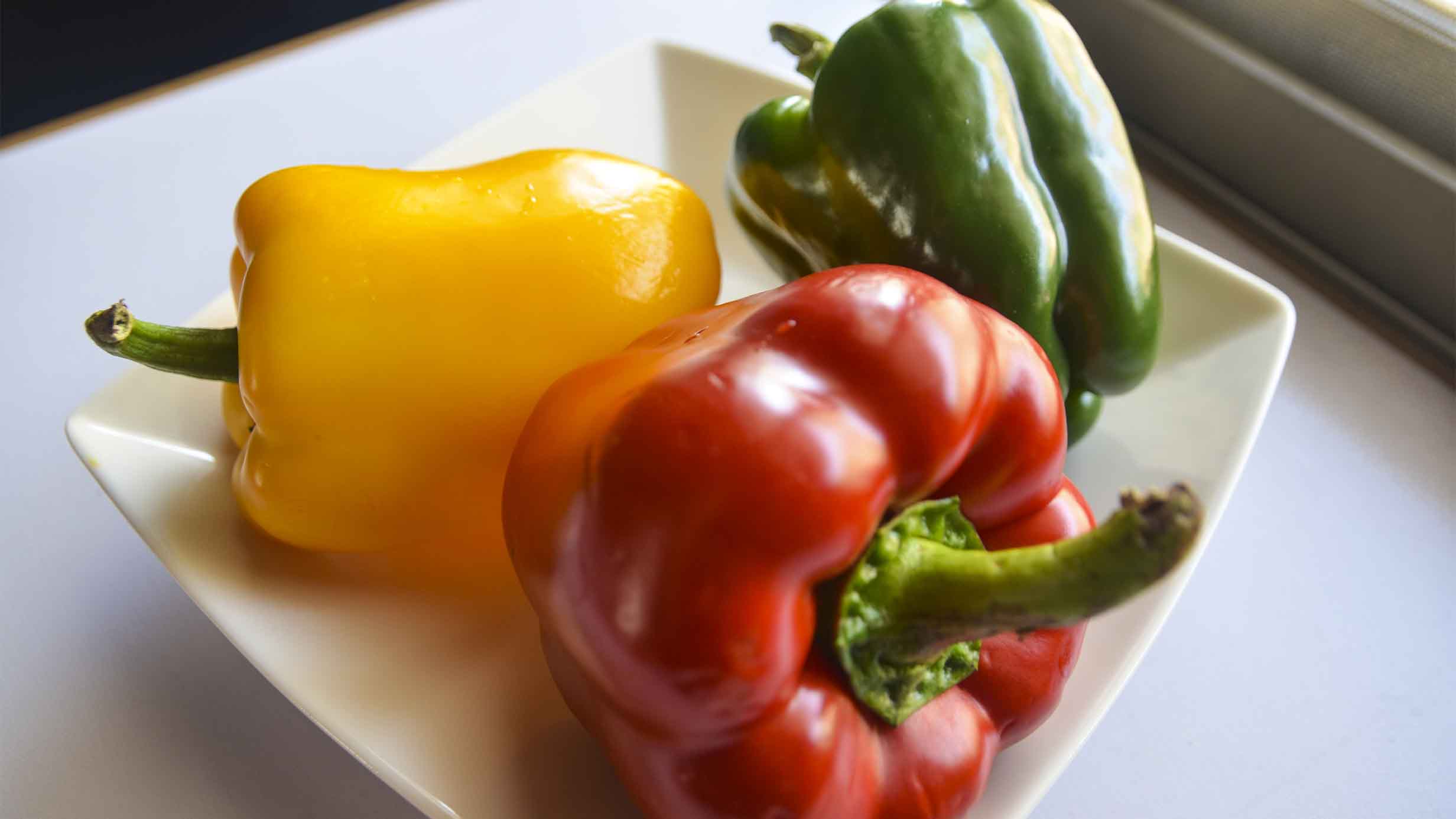 When it's time to chop the veggies for the chicken meal, start with YELLOW AND RED BELL PEPPER and GREEN CAPSICUM. Make cautious not to chop the onion into tiny pieces since we will be threading it on a little bamboo skewer later.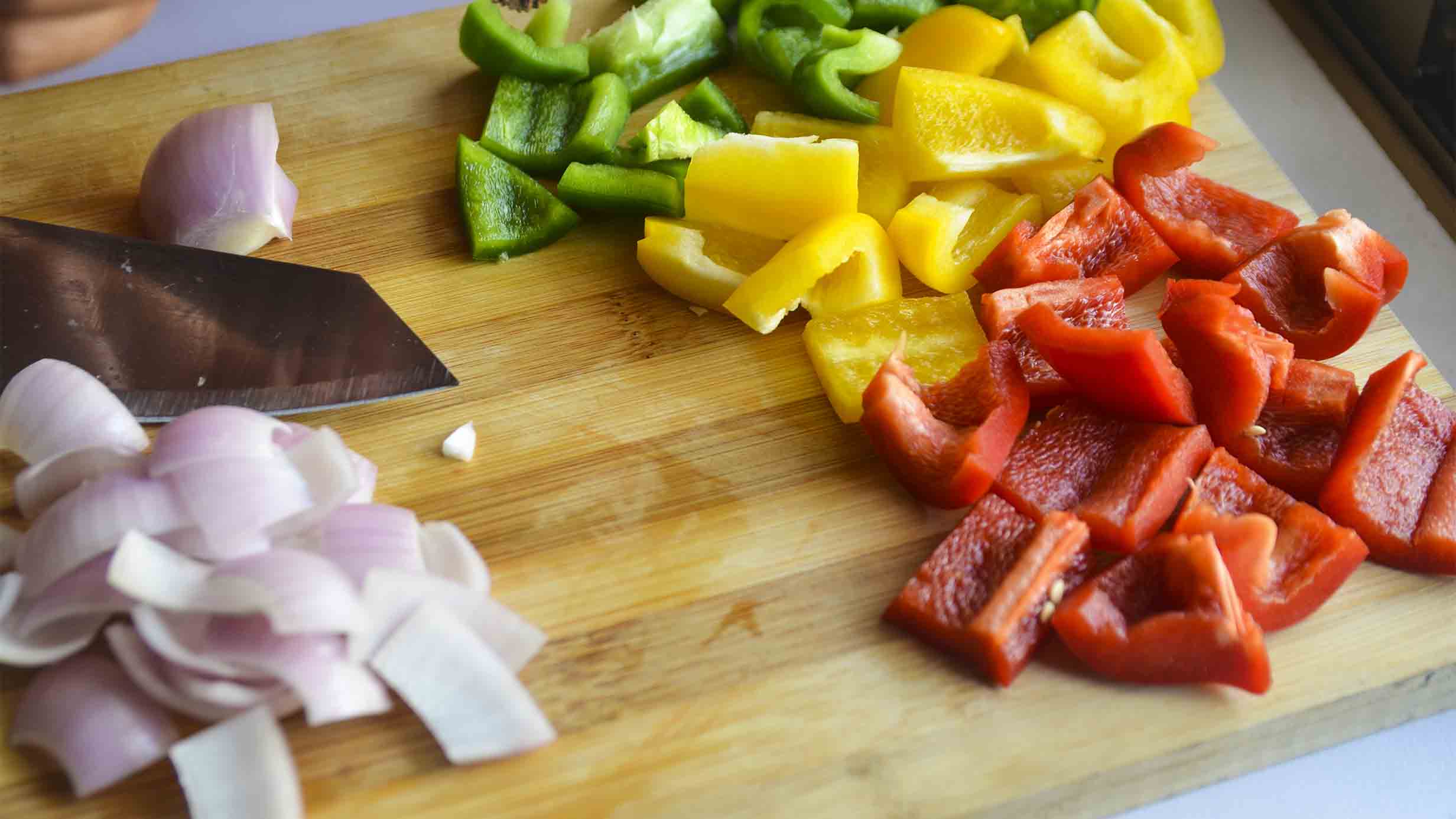 Threading things onto a Small Bambo Skewer:
Because we have marinated chicken and chopped veggies, we will alternate threading the vegetables with a piece of chicken between them.
In my instance, each bambo skewer has two marinated chicken pieces.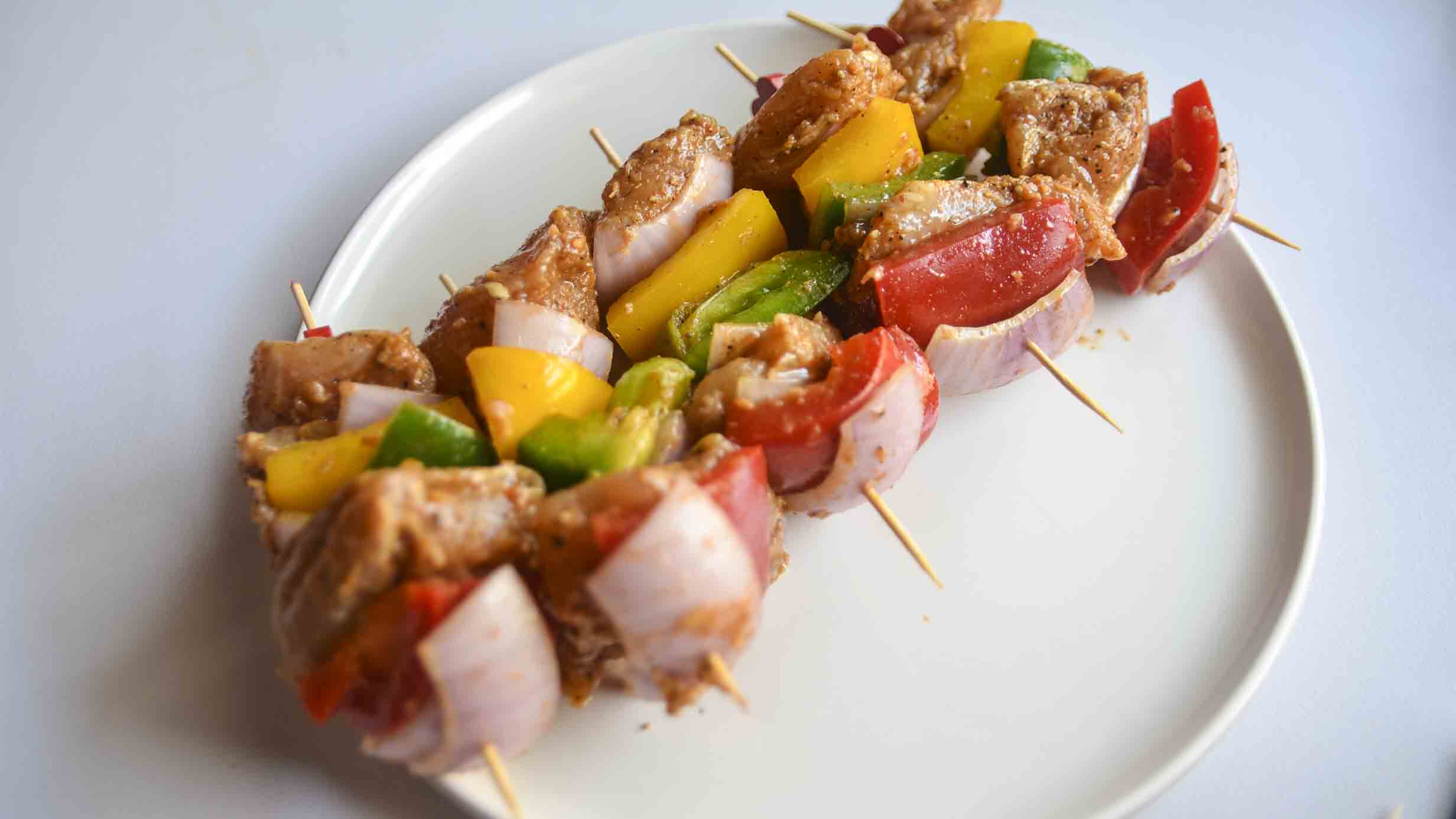 Again, remember to chop the chicken and veggies into rectangle shapes before threading them onto the skewer.
Part of the fry:
This is the last step in our recipe, and I'll be frying these shashlik sticks on a flat pan. Adding a little coating of cooking oul will suffice. Keep the heat on medium because we want to cook the chicken from the inside out.
Because this is not a deep fry, we need to turn the skewer every couple of minutes to ensure that all sides of the chicken and veggies are cooked.
If you are not serving immediately, you may foil paper them after they are done, but I like to cook this a minute before serving.
That's all there is to it; our nutritious chicken shashlik is ready, Alhamdulillah.
Sign Up and be our Partners in Taste
Please Subscribe to our YouTube Channel if you liked this Beef Burger recipe Also Click the BELL icon so you can be the first one to get notification of Taste with Taj new video). Thank you for signing up. It means a lot to me.
#tastewithtaj #Breakfast #eggs #How To
Filming and Post Processing :
Gallery pictures