How to Make Chicken Macaroni by Taste with TJ
If you're looking for a quick and healthy meal that's packed with flavor, chicken and vegetable macaroni is a great option. This dish combines tender chunks of chicken, fresh vegetables, and al dente macaroni which is satisfying and nutritious. Best of all, it's easy to make and can be customized with your favorite vegetables and herbs. In this blog, we'll go over how to make chicken and vegetable macaroni from scratch, step by step.
Ingredients for Chicken And Vegetable Macaroni Recipe
2 Tbsp of OIL
1 Pack of MACARONI
½ Kg of CHICKEN
1 TOMATO (medium)
1 CAPSICUM (medium)
1 CARROT (medium)
1 CABBAGE (small)
1 ONION (medium)
3 Tbsp of KETCHUP
½ LEMON
½ Tsp of RED CHILI FLAKES
½ Tsp of BLACK PEPPER
½ Tsp of RED CHILI POWDER
1 Tbsp of WHITE VINEGAR
1 Tsp of GINGER CHOPPED
1 Tsp of GARLIC CHOPPED
SALT As required
2 Tbsp of SOYA SAUCE
2 Tbsp of RED CHILI SAUCE
2 GREEN CHILI CHOPPED
Great, here's the updated recipe for chicken and vegetable macaroni with soy sauce and red chili sauce:
Instructions:
Heat the oil in a big skillet or pan over medium-high heat.
Combine the chicken, salt, and black pepper in a mixing bowl. Cook for 5-10 minutes, or until the chicken is no longer pinkish.
Add the onion and garlic to the skillet and sauté until they become translucent.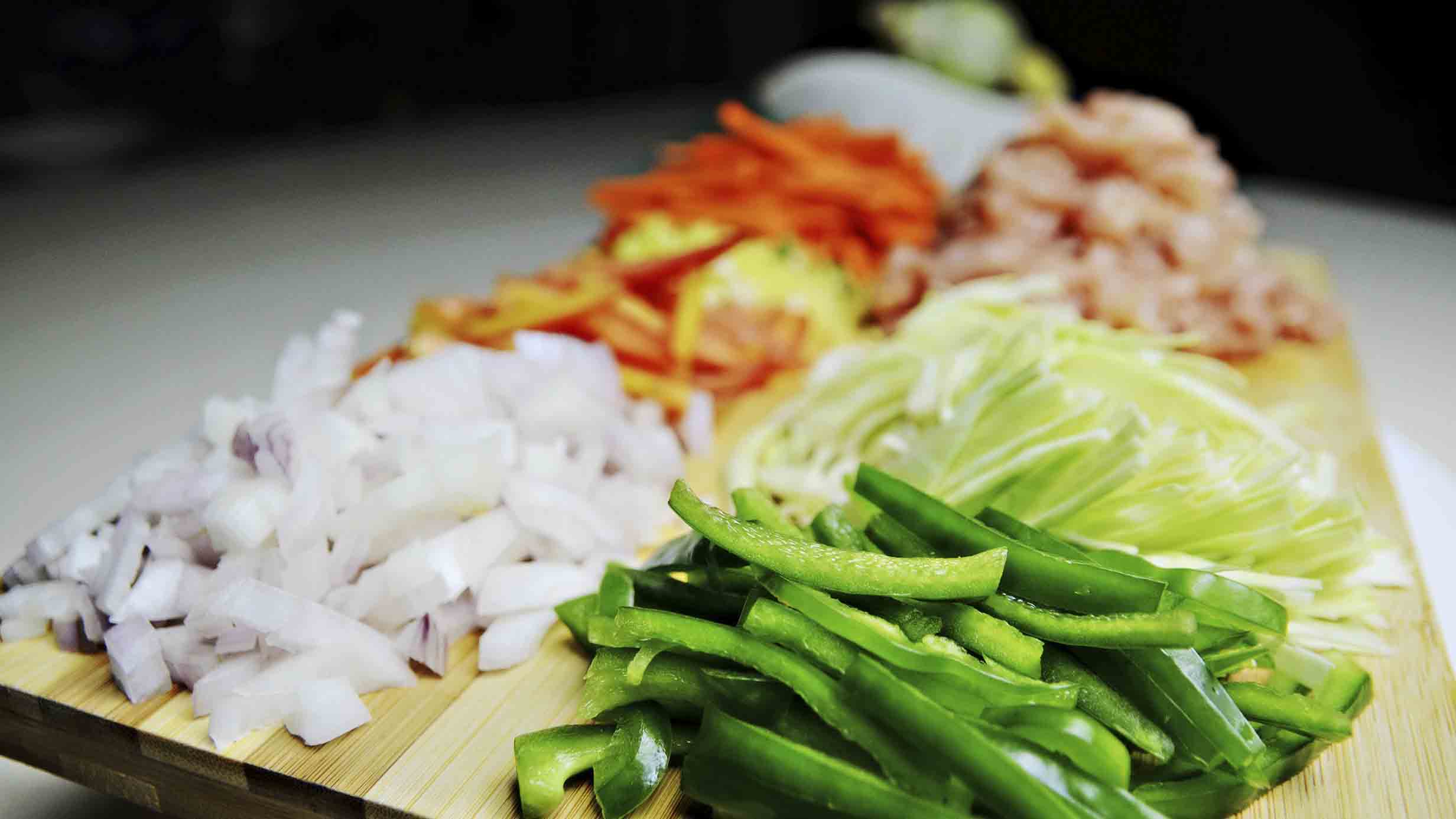 Add the red and green bell peppers and carrot to the skillet. Cook for 5-7 minutes or until the vegetables are tender perfectly with good smell.
Add the soy sauce and red chili sauce to the skillet and stir to combine.
Add the cooked macaroni to the skillet and stir to combine with the chicken and vegetable mixture. Serve hot.
Enjoy your delicious chicken and vegetable macaroni with soy sauce and red chili sauce! Chicken and vegetable macaroni is not only delicious but also offers several health benefits. Lets focus on some of the health benefits of this dish:
Good Source of Protein: Chicken is a great source of lean protein, which is essential for building and repairing muscle tissues. This dish also contains peas, which are another great source of plant-based protein. Packed with Vegetables: This dish is loaded with a variety of vegetables such as bell pepper, squash, zucchini, and peas. These veggies are rich in vitamins, minerals, and fiber, making this dish a nutritious meal.
Lowers Cholesterol: Studies have shown that consuming high-fiber foods such as vegetables and whole grains can help lower LDL cholesterol levels, which is known as the "bad" cholesterol.
Helps with Weight Management: This dish is low in fat and high in fiber, making it a great meal option for weight management. The fiber in the dish helps you feel full for longer, which can prevent overeating.
Boosts Immunity: The variety of vegetables in this dish provides a range of nutrients that can help boost your immune system. The vitamins and minerals in these vegetables can help support your body's defense against infections and illnesses.
Good for Digestive Health: The high fiber content in this dish can help promote healthy digestion and prevent constipation.
In conclusion, chicken and vegetable macaroni is not only delicious but also a nutritious meal that can provide numerous health benefits. It's a great way to add more vegetables and lean protein to your diet, while also satisfying your taste buds.
Here are some variations you can make to a chicken and vegetable macaroni recipe:
Change up the vegetables: Instead of using the same vegetables every time, try using different ones. Broccoli, mushrooms, bell peppers, and zucchini are all great options.
Use different types of pasta: Instead of using macaroni, try using different types of pasta such as penne, fusilli, or farfalle.
Add different proteins: Instead of chicken, try using beef, shrimp, or tofu.
Switch up the sauce: Instead of using a traditional cheese sauce, try using a pesto sauce, Alfredo sauce, or a tomato-based sauce.
Add different seasonings: Try adding different herbs and spices to the recipe such as garlic, thyme, or oregano.
Make it spicy: Add some heat to the recipe by adding chili flakes or hot sauce.
Make it creamy: Add some cream or milk to the recipe to make it extra creamy.
Make it healthier: Use whole wheat pasta and low-fat cheese to make the recipe healthier.
Add nuts: Toasted pine nuts or slivered almonds can add some crunch to the dish.
Add some sweetness: Adding a bit of honey or maple syrup to the recipe can balance out the flavors and add some sweetness.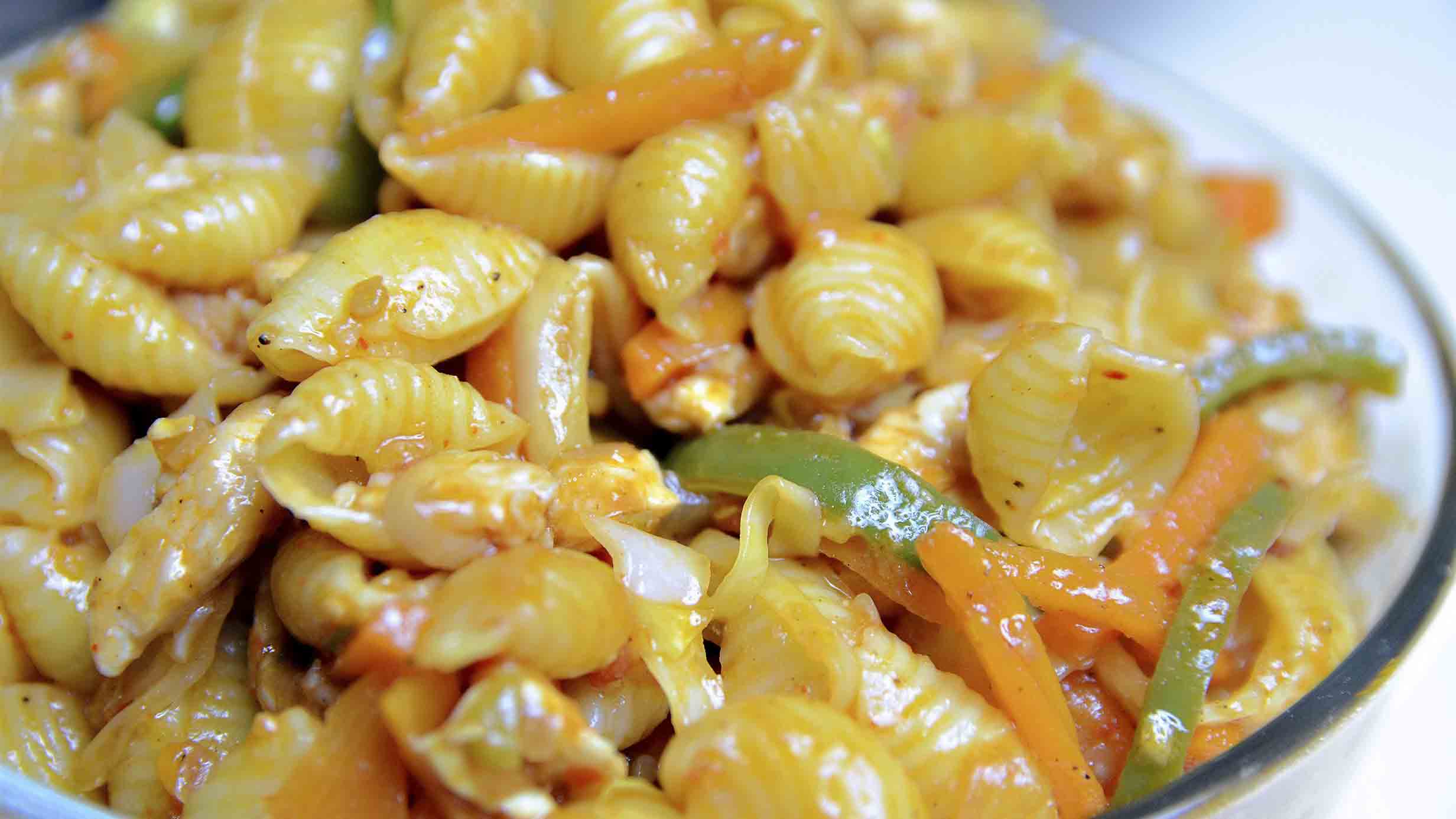 Filming and Post Processing :
Gallery pictures