Turkish Adana Kebab
Salam and greetings, my dear audience. I hope everything is going really well . We are here with another tasty Recipe of Beef Kebab, Adana Kebab usually known as Turkish Kebab. This beef recipe is one of my favorite since it has a rich flavor that allows you to enjoy the meal to the fullest.
This variant is called after the Turkish city of Adana, where it is thought to have originated, and is generally composed of minced lamb impaled on a skewer and roasted over charcoal.
Some people may confuse Adana Kebab with doner kebab as well but its a different one. Doner kebab is a shawarma-style kebab in which the beef is peeled off the main piece, while Adana Turkish Kebab is created with beef mince. These kababs may be cooked in a flat-edged pan or on a grill. I often remark and like saying that there are no doubt tonnes of kebab near me, but since I adore cooking, why not try it myself?
This Turkish-style beef kebab recipe is ideal for a hot summer day, and a winter barbecue style may take it to the next level. Its gratifying exquisite taste and ease of preparation make it a beloved meal all year.
The simplicity of preparation is what makes these kebabs so appealing for cooking. Simply combine all of the ingredients in a mixing dish, stir, and set aside. So let's get started with our Kebab Recipe.
Turkish Beef Kebab Ingredients:
BEEF ½ Kg
ONION 1 Medium
GREEN CHILIES 3
GREEN CORIANDER & MINT
DRY CUMIN 1 TSP
DRY CORIANDER 1 TSP
POMEGRANATE POWDER 1 TSP
SALT AS REQUIRED
RED CHILI POWDER 1 TSP
PAPRIKA POWDER 1 TSP
OIL FOR FRY
FOR SALAD
ONION 1 Medium
TOMATO 1 Medium
GREEN CORIANDER & MINT
FOR ROLL
NAAN
SALAD
KABAB
MINT CHATNI
Kebab preparation instructions:
Preparation of Materials:
First, we must fully soak the beef mince in water. Now we'll crush 1/2 kg of beef mince with 1 medium onion (ideally chopped into little pieces a head), 3 green chilies, green coriander, and mint. 1 tablespoon dried coriander and 1 tablespoon dry cumin. It's time to crush the mince until it's quite thin and everything is well blended.
So we've ground the mince and will add 1 teaspoon of Pomegranate powder, salt to taste, 1 teaspoon of red chili powder, and 1 teaspoon of paprika powder and combined well.
You may have observed that I did not add spices before the grinding step; this is because spices are easily combined after we grind.
I recommend combining spices by hand in this case.
Kebab on Skewers:
Form kebab stuff on skewers now. Simply take your time to ensure that the meat mixture sticks to the skewer.
Use your hands to evenly put the mixture onto the skewer and gently press the meat together as you shape the mixture onto the skewer. Then, at the very end, push indentations the length of the kebab with your thumb and fingers.
If skewers aren't available, you may alternatively make them into mini burger or meatball shapes.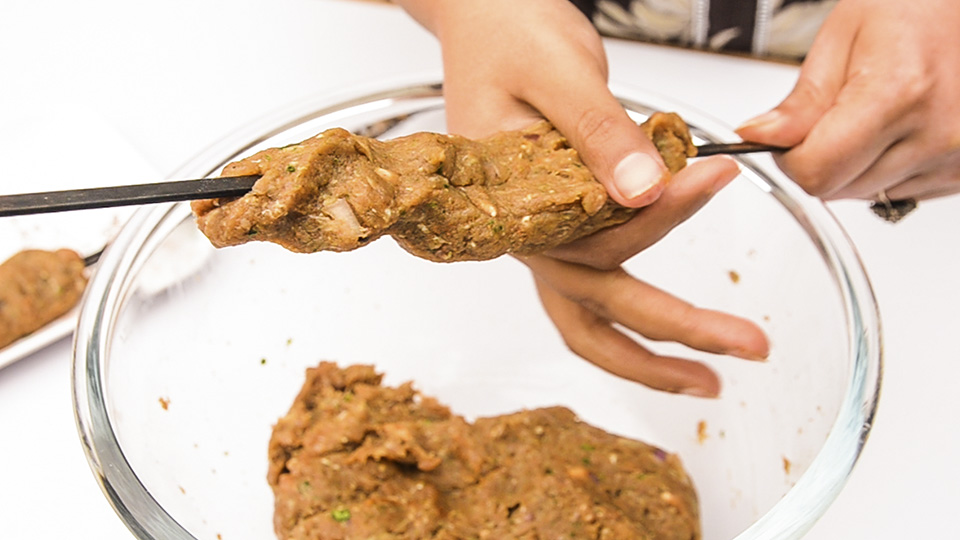 Cooking:
Because I'm not using a grill to cook the kebabs, I just heat up some oil in a flat pan. Once the oil is hot, reduce the heat and begin cooking each side of the kebab.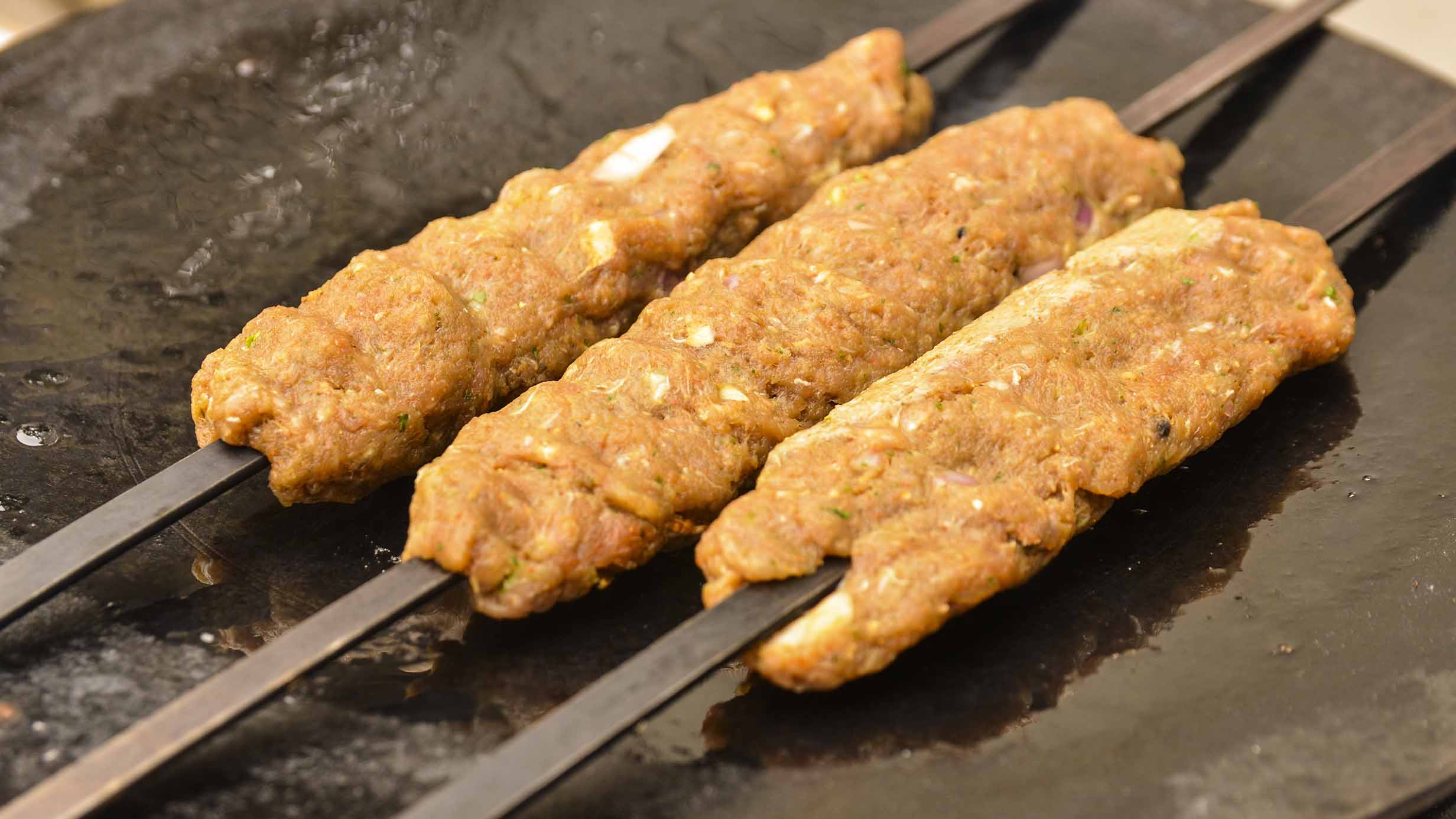 This Adana Kebab is not round because it is pressed with finger plus Skewers are flat so its easy to cook one side, flip kebab and cook the other side. Once the kebab has cooked a little bit, it will naturally separate off the skewer, allowing you to remove the finest fried kebab.
Salad:
You can make whatever sort of salad you like. I created a salad using 1 medium onion, 1 tomato, green coriander, and mint.
You may have Beef Turkish Kebab with rice, Naan, or Break. In this recipe, I warmed up naan on the kebab so that the flavors merged with the naan as well.
I hope you like the recipe and your lunch.
Some pointers for this recipe:
Any leftover mixture or kebabs may be frozen for up to three months.
You may make the marinade ahead of time and chill it overnight if you have extra time to marinate the meat.
The 80/20 proportion in ground beef implies that it has 80 percent beef and 20 percent fat, which is the most frequent ratio seen in grocery shops.
#tastewithtaj #turkishkebab #turkishadanakebab
Sign Up and be our Partners in Taste
Please Subscribe to our YouTube Channel if you liked this Turkish Kebab Recipe Also Click the BELL icon so you can be the first one to get notification of Taste with Taj new video). Thank you for signing up. It means a lot to me.
Filming and Post Processing :
Gallery pictures