French Toast Recipe Strawberry
We are providing another seasonal dessert, French Toast Recipe Strawberry Rolls. Taste with Taj is always delighted to help you in the kitchen, and we offer a large collection of dessert recipes on our platform. Recipes include Strawberry Crepe Rolls, Chocolate Truffles Dessert, and Banoffee Pie.
Strawberry Stuffed French Toast is a great breakfast or brunch dish for summer when strawberries are in season. It's prepared using plain bread, chocolate spread, and strawberries.
These Strawberry French Toast Roll-Ups are made with a chocolate spread filling and strawberries wrapped in cinnamon sugar bread. A delicious breakfast recipe that is also quite simple to prepare!
Strawberry Rolls, French Toast Ingredients:
🍓 Sandwich Bread
🍓 Chocolate Spread
🍓 Strawberries
🍓 Clarified Butter 1 Tsp
🍓 Beaten Egg 2
🍓 Powder Sugar
🍓 Cinnamon Powder
Dessert Strawberry Rolls Up Instructions
I always wanted this dessert near me, but we didn't have a chance to purchase them, so we decided to create them ourselves. I hope you like this dessert as much as I did.
Preparation of Sandwich Bread:
First and foremost, we must cut the sandwich bread's corners.To make a basis, flatten sandwich bread using a rolling pin.
Fill and roll the bread as follows:
Add chocolate spread to the flattened sandwich bread. Strawberries should be cut into extremely little pieces since the smaller the strawberries, the more tasty the strawberry french toast. In some cities there are places where you can do strawberry picking but definitely you do not have to do that exercise for this recipe :) Place sliced strawberries on top of chocolate spread.
Because it is sandwich bread, which is somewhat larger than regular bread, you may use 1.5 strawberries per slice in my recipe. The bread should be rolled.
We have 2 eggs beaten on a flat dish and will dip the strawberry rolls in the egg mixture. Once the rolls have been dipped, make sure the roll edges have been dipped as well.
Cook the roll-ups as follows:
In a frying pan:
I'll be making these rolls using clarified butter. Because they are not deep-fried, we must constantly rotate the rolls to ensure that all sides are cooked, including the edges, which must be done manually. When the rolls have become golden, they are ready for the next step.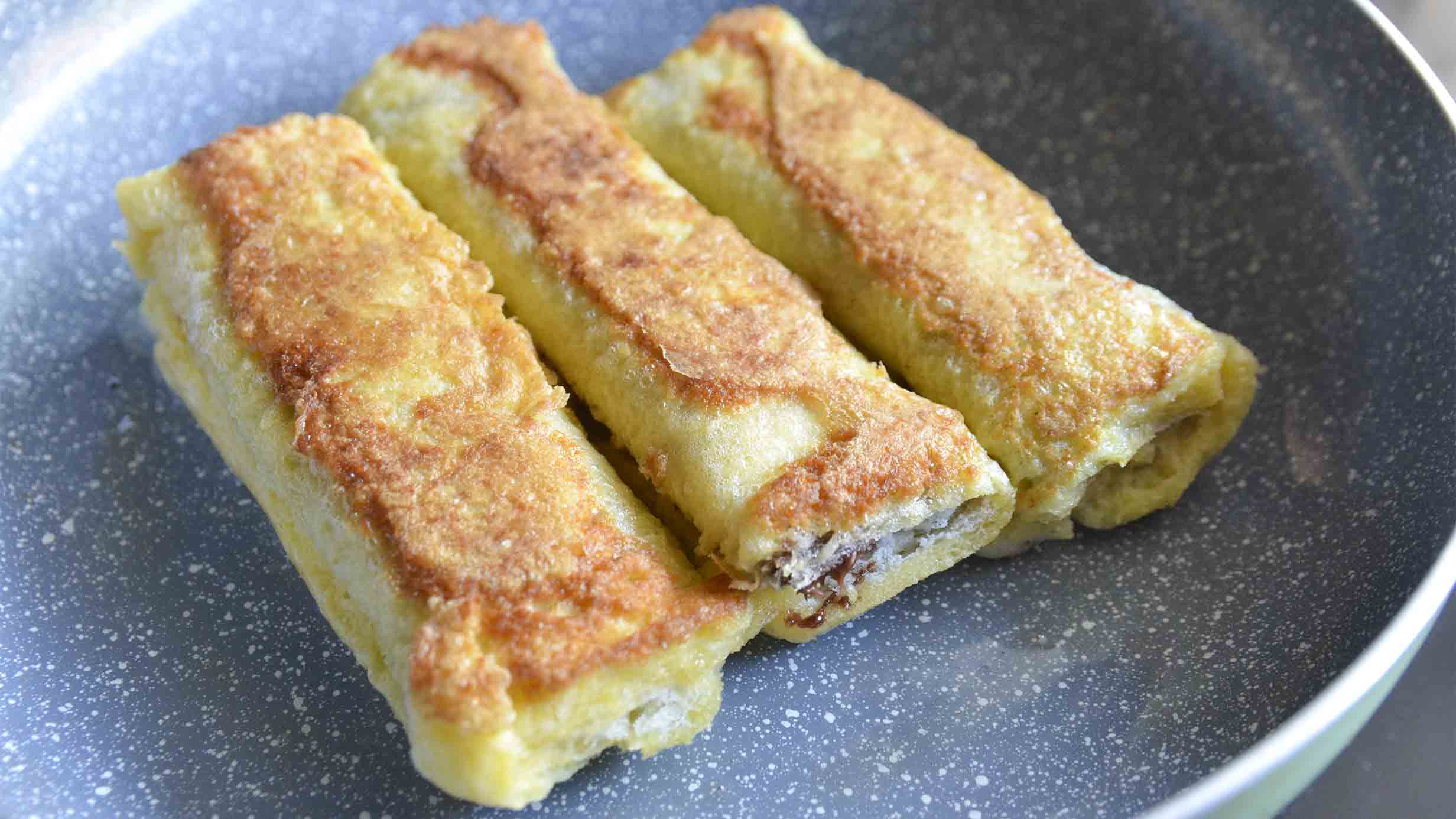 Baking is another option.
You may also bake these rolls instead of heating them in a frying pan. Preheat the oven to 350°F and bake the rolls for 40 to 50 minutes, or until they are golden brown.
My personal preference, though, is frying :)
We may now have a blend of powdered sugar and cinnamon powder before serving. Instead of sprinkling the powder mixture, I recommend putting it on a flatter plate and rolling the French Toast Strawberry Rolls in it.
Please serve the freshly baked rolls.
General Queries:
Can I make any changes to the ingredients?
Yes, there is always the possibility to explore new things, such as
Instead of chocolate bread, we may use cream cheese for a different flavor.
Instead of strawberries, try blueberries, raspberries, or peaches. Alternatively, combinations of these fruits may be tried.
Although chocolate spread is plenty, a basic jam may also be used.
Can I keep them frozen for the future?
To be honest, I tried it and I must tell that fresh rolls are quite tasty. However, you may freeze them for up to two months. I propose covering them with a small plastic sheet and freezing them.
When flattened, how thick is bread?
Make sure not to push the sandwich too hard when flattening it, since a too thin slice can tear off while forming rolls.
Sign Up and be our Partners in Taste
Please Subscribe to our YouTube Channel if you liked this Dessert French Toast Recipe Strawberry Also Click the BELL icon so you can be the first one to get notification of Taste with Taj new video). Thank you for signing up. It means a lot to me.
Filming and Post Processing :
Gallery pictures