Italian Dessert Recipe Classic Tiramisu Recipe
Learn How To Make Tiramisu Classic Italian Dessert Recipe
Another famous dessert recipe that requires a little more effort but is well worth it. We'll show you how to make tiramisu step by step.
Tiramisu is an Italian coffee-flavored dessert. Ladyfingers dipped in coffee are layered with a cocoa-flavored whipped mixture of eggs, sugar, and mascarpone cheese.
To be fair, this is not a particularly healthy dessert because it contains significantly more calories, but it can be enjoyed once in a while. It is available in supermarkets, but homemade tiramisu is the most hygienic.
Classic Tiramisu Recipe Ingredients
INSTANT COFFEE 1 TBSP
HOT WATER 1.5 CUP
LADYFINGERS 18-20 PIECES
HEAVY WHIPPING CREAM 200 GRAMS
SUGAR 1/2 CUP
SALT PINCH
MASCARPONE 250 GRAMS
VANILLA ESSENCE FEW DROPS
COCOA POWDER 2 TBSP
The elegant, rich layering of bold espresso and cocoa, creamy mascarpone, and soft ladyfingers, a low-density sponge cake-like cookie, makes tiramisu one of Italy's most popular desserts. To soften the ladyfingers, which are themselves classic Italian treats, they are briefly soaked in an espresso and sugar mixture.
How to Make an Italian Dessert Recipe Tiramisu
The tiramisu recipe has many varieties. The authentic Italian tiramisu cake recipe that you make on weekends is provided below.
We'll start with 1.5 cups of hot water and 1 tablespoon of instant coffee. Combine 200 grammes of heavy whipping cream with 1/2 cup of sugar. Blend it with the beater and continue to beat it until it has a soft foamy texture.
Pour in 250 grammes of mascarpone and a few drops of Vanilla Essence for flavour and aroma. Then add a pinch of salt. Continue to beat it with an electronic beater.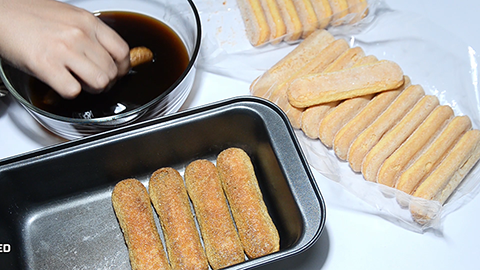 Now comes the main event: 18-20 pieces of lady fingers; in this recipe, I used this amount based on the size of the pan available. Dip the lady fingers in the coffee liquid we made earlier and begin to place them in the pan. Make certain that they are placed in close proximity to one another.
Pour the whipped ready cream we made as a second layer over the first layers of lady fingers. Then, repeat the lady finger layer, followed by the cream layer.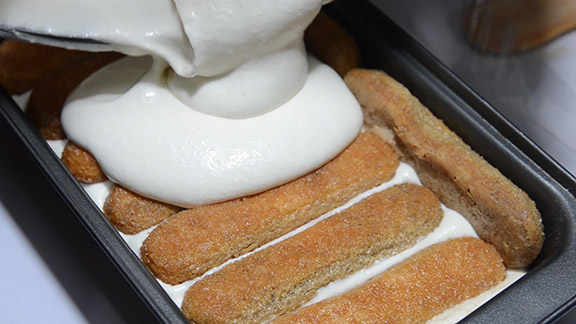 When the layers are complete, sprinkle 2 tbsp of Coco Powder on top.
For best results, place it in the refrigerator for 6 hours or overnight.
Serving
Cut into one-serving pieces and plate just before serving.
Tiramisu is a semifreddo dessert, which means it's not ice cream but also not lava cake. It's ready to eat as soon as you take it out of the fridge, but it tastes even better after sitting overnight or for a few days.
Although, when it comes to such a dessert, it's difficult to let it sit for too long. That's the Italian charm of food, where even something as simple as salad dressing or pasta is consumed on the spot, with no leftovers.
How long will it last, and is freezing a good idea?
It can last for 2 - 3 days if properly covered and stored in the refrigerator. Although you can freeze tiramisu, I don't suggest it because dairy does not freeze well and will likely lose its creamy and rich texture.
Sign Up and be our Partners in Taste
Please Subscribe to our YouTube Channel if you liked this Beef Burger recipe Also Click the BELL icon so you can be the first one to get notification of Taste with Taj new video). Thank you for signing up. It means a lot to me.
Filming and Post Processing :
Gallery pictures