Lotus Biscoff Just Like Cheesecake Factory
Salam and greets, my dear audience. Today, inshallah, we will show you an excellent dessert. We spotted such treats in a cheesecake factory, so why not learn how to produce Lotus Biscoff exactly like a cheesecake factory?
I know cheesecake dessert is generally hefty, but it's worth including on your menu. Plus I have no cheesecake near me.
As you are aware, we are currently concentrating on ASMR noises in the preparation of foods in Taste with TJ, and we hope you like this one as well. Before we go any further, let's look at what components we need to create.
Biscoff cheesecake ingredients
🎂 WHEAT BISCUITS 165 Grams
🎂 BUTTER 90 Grams
🎂 CREAM (chilled) 200 Grams
🎂 POWDERED SUGAR ½ Cup
🎂 CREAM CHEESE 400 Grams
🎂 LOTUSS BISCOFF SPREAD 3 Tbsp
🎂 LOTUSS BISCOFF SPREAD (Melted)
🎂 LOTUSS BISCOFF BISCUITS
Step-by-step instructions for creating cheese cake:
Base biscuit:
I'll begin with 165g crushed wheat biscuits. This recipe works best with finely ground biscuits. Now, add 90 grammes of melted butter to the ground biscuits and thoroughly combine.
I have an unique 9-inch springform pan that separates from the base. So, in this pan, add biscuits and melted butter.
Press this with anything so that it may be crushed as a Cheesecake base.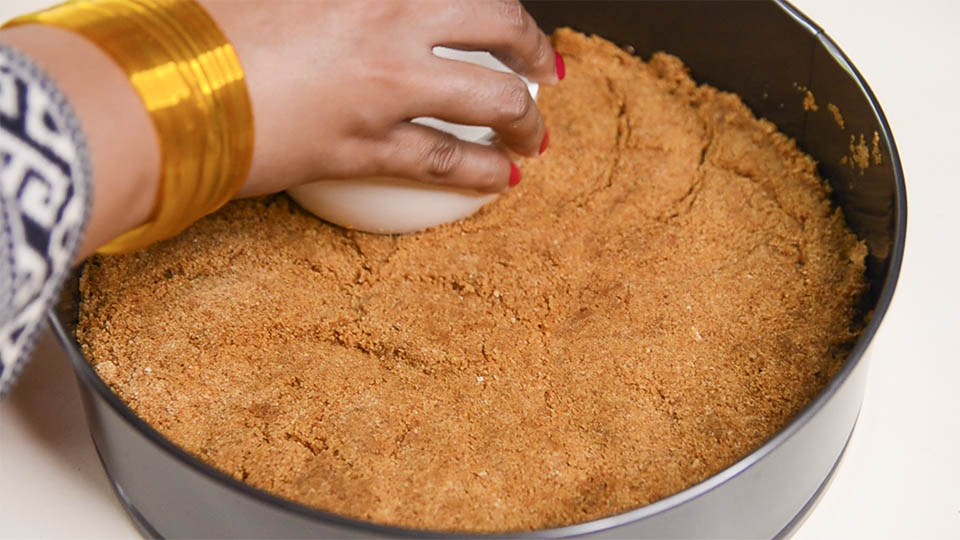 1st Cream Base:
In a large mixing bowl, add 200 g of cold cream using an electric blender, also known as a whipped cream machine. Add to the mix in 12 cup powdered sugar. The more you combine it, the softer the cream will be.
2nd Cream Base:
In a separate dish, add 400g of cream cheese and 3 tablespoons lotus biscoff spread for the third layer. Again, use an electric blender to combine everything.
Mix Cream 2 into Cream 1 and continue to mix.
Now that our cream layer is complete, we will spread cream on the Biscuit Base. Refrigerate for 24 hours.
As a final layer, we use melted lotus biscoff spread to cover the frozen cheesecake. Freeze it for a few minutes longer, and your Lotus Biscoff, a la Cheesecake Factory, is ready to serve. Alhamdulillah.
If there is talk concerning the history of this Biscoff at the present. Lotus Biscoff is a sort of speculoos biscuit from Belgium that has spices and a deep caramel taste. Originally a cookie or biscuit, as they say in Europe, it rapidly became a global cult taste. This Lotus Biscoff cheesecake transforms this delectable taste into a creamy and luscious cheesecake. That's how it developed through time.
It includes a crispy Biscoff base, a creamy Biscoff filling, and a gorgeous Biscoff topping and drip edge, making it a show-stopping treat that will wow your visitors or when you need something that looks as delicious as it tastes!
Some Things To Think About:
For the creamiest cheesecake, always use high-quality cream cheese.

For optimal results, use room temperature cream cheese.

Cheesecakes must be kept in the refrigerator at all times.

Cream the ingredients using an electric mixer. This causes them to become fluffy.

If you use other biscuits instead of lotus, I suggest adding a little cinnamon for taste.
Sign Up and be our Partners in Taste
Please Subscribe to our YouTube Channel if you liked this Lotus Biscoff recipe Also Click the BELL icon so you can be the first one to get notification of Taste with Taj new video). Thank you for signing up. It means a lot to me.
#tastewithtaj #Breakfast #eggs #How To
Filming and Post Processing :
Gallery pictures