Mango Cake Dessert | Mango | Cheese Ice Cream Cake Never ate it from Cheesecake Factory
Salam and welcome to everybody; today we will create Mango Cake Dessert, also known as Cheese Ice Cream Cake. I've never eaten at the CheeseCake Factory, but it's on my bucket list. Is it a birthday cake? No, I think of it as a mango dessert or a mango delight.
Every dessert lover's dream comes true with our Homemade Mango Cheesecake Ice Cream! Because it doesn't get much better than cheesecake and ice cream. It's smooth, fluffy, fruity, and delicious, plus it doesn't need churning!
Oh my mango mango dessert, it's a No-Bake Mango Cheesecake Recipe, so prepare for a comprehensive walkthrough. Although the mango ice cream cake instruction is brief, we must consider the relevance of a few procedures.
Before we go any further, let's look at the ingredients we'll need.
Ingredients
🥭 MANGOES 3 Medium
🥭 MANGO JUICE As Required
🥭 MANGO JELLY 160 Grams/2 Packs
🥭 CREAM 600 Grams/3 Packs
🥭 BISCUITS 3 Roll Packs
Mango dessert recipe instructions:
And this isn't even an ice cream recipe like my other no-churn ice creams. It has no condensed milk or a lot of sugar. The mango provides the majority of the sweetness, while the heavy cream provides the lightness, and you can never go wrong with cream cheese, right?
Cheesecake with mango Ice cream is a delightfully refreshing summer dessert. A must-try delight for mango fans.
I don't believe I've ever seen this dessert near me, even in a famous dessert shop, so let's try this time taking recipe. The process of preparing a cheese cake recipe comprises fewer ingredients but a greater emphasis on quantity.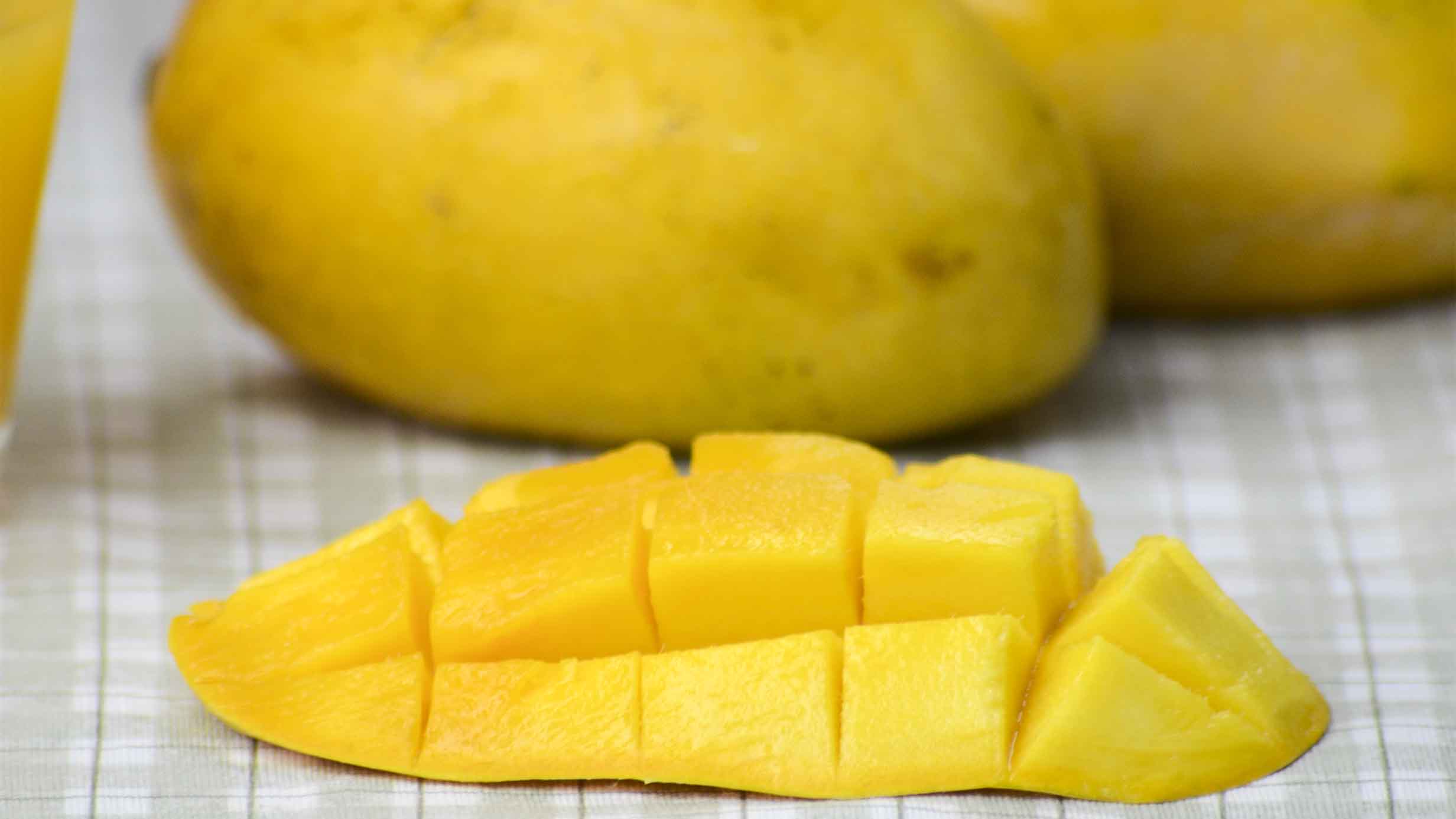 In this dish, every ingredient, including the biscuits, should be cold.
Creating the Cream Base:
Start beating with an electric beater in a chilled dish with 600 grams (6 packs) of Cream. Then add 160 gram of mango jelly and continue to beat. Make sure the beater's legs are cool so the cream sticks together.
Cream should be doubled in size. It's worth noting that we already have sugar, mango flavor, and gelatin powder in the jelly, so we don't need to add them individually.
Phase of Assembling: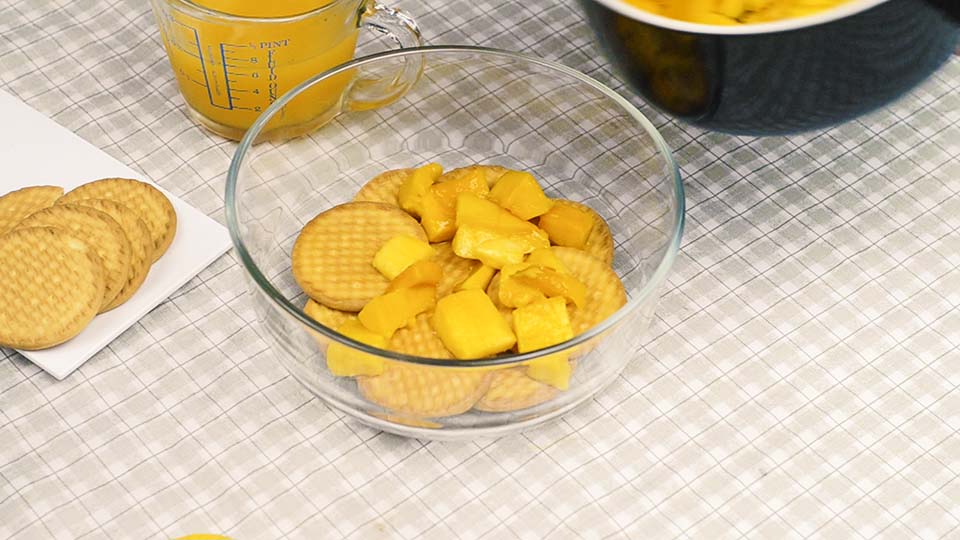 The most difficult component of this recipe is learning how to chop a mango into cubes. Take another chilly dish and put cold biscuits at the bottom, followed by a layer of mango cubes on top. Top with the cream mixture you made in the previous step. Spread it evenly in the bowl and put aside for a few minutes to allow it to settle.
You may now top it with some more cube mangoes and cookies ( I suggest half them here). Serving: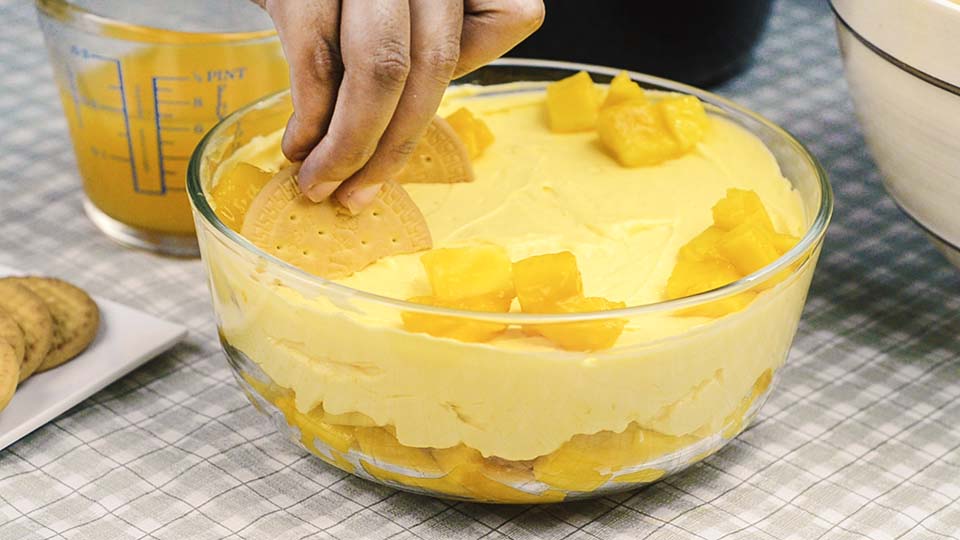 Mango Cake Dessert is now ready to serve. Please keep it refrigerated until it is ready to serve. The mango season is coming to an end, so before the next season grabs the last few pieces on the market, I decided to do something with the king of fruits.
Choose a delicious, fully ripened mango cultivar. If you use sour mango, the dessert will be ruined. In the recipe, you may alternatively use canned mango puree.
Spread the mango glaze immediately after the cream cheese layer has firmed up after a few hours in the freezer; otherwise, you won't obtain a lovely layer of glaze.
You may also use a big container to freeze the ice cream instead of individual dishes.
Sign Up and be our Partners in Taste
Please Subscribe to our YouTube Channel if you liked this Beef Burger recipe Also Click the BELL icon so you can be the first one to get notification of Taste with Taj new video). Thank you for signing up. It means a lot to me.
Filming and Post Processing :
Gallery pictures