Sandwich | How To Make A Perfect Grilled Cheese Sandwich
Today, we're going to show you how to make a perfect grilled cheese sandwich.. Inshallah, we may either use a grill or a plain pan to cook this cheese sandwich. It has a buttery outside and a cheesy core.
Sandwiches are usually a simple answer for unexpected cravings, especially late at night:). I live in busy region but yet there are not many sandwich shops near me , therefore we need to discover simple fast and clean cooking sandwich choice. So let us create it ourselves.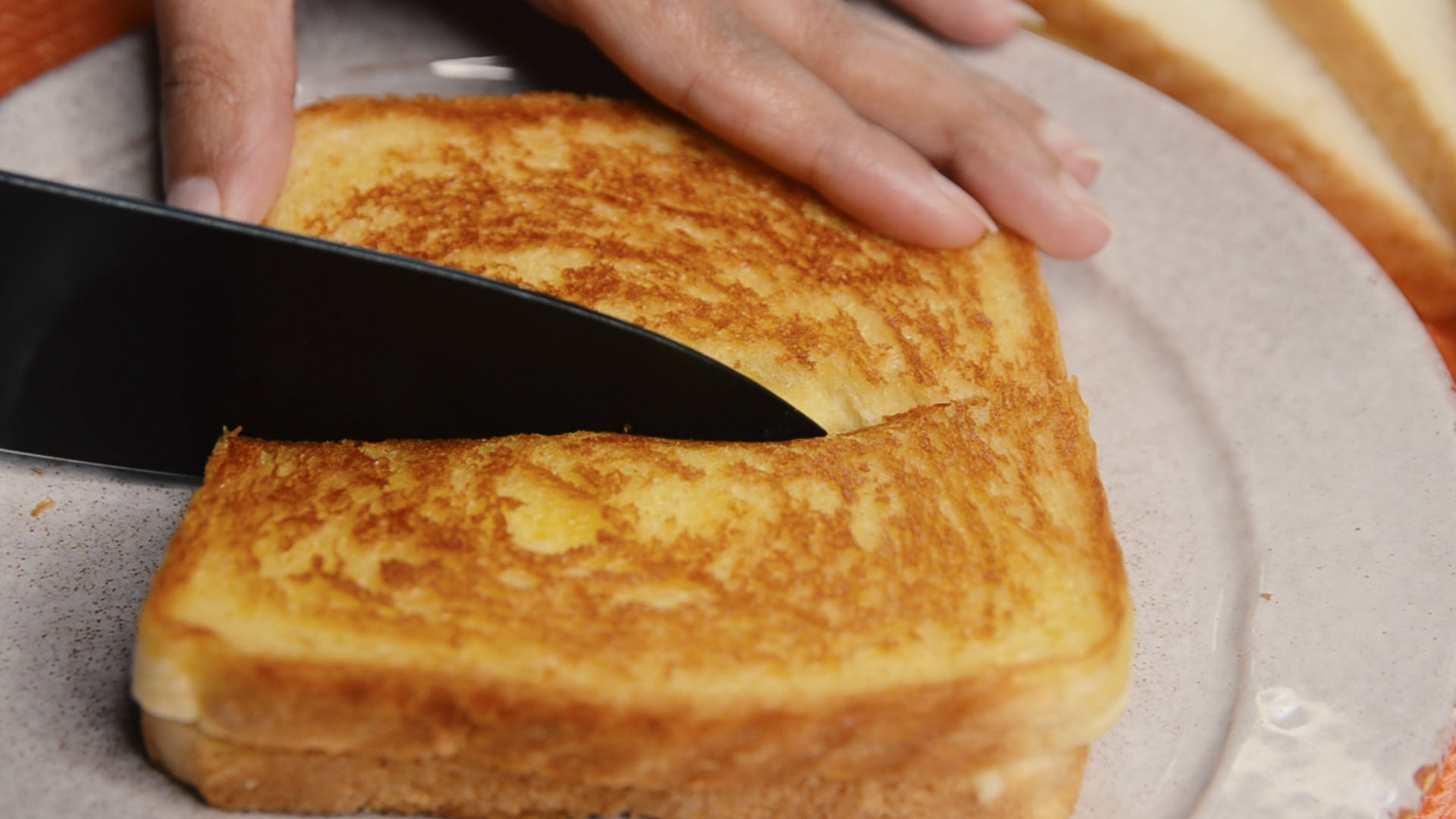 This is often eaten as a breakfast sandwich, however owing to the cheese, it might seem heavy at times. Grilled Cheese Sandwich is my favorite, and I made it pretty easy, but we can make some alterations from the recipe, which we will discuss later.
Ingredients for this easy grilled cheese sandwich recipe
🥪 Sandwich Bread
🥪 Cheese of your Choice (about 4 slices)
🥪 Butter
🥪 Mozzarella Cheese
The entire family enjoys this Grilled Cheese dish. Who could possibly resist that tremendous cheese pull?
The recipe's origin:
Grilled cheese is a traditional American sandwich that dates back to 1920. It's a hot sandwich prepared with buttered and toasted bread that was initially filled with American cheese but is now typically loaded with one or more other cheeses. Place each slice on a heated skillet with butter on one side. Please be sure to fry the butter side first.
Sandwich preparation instructions:
For this dish, I'll be using a flat-edged pan.
Sandwich bread is preferred because it is bigger in size. First and foremost, we shall butter sandwich slices. Because we need to spread this butter over sandwich bread, keeping the butter at room temperature before creating this dish will make your job simpler.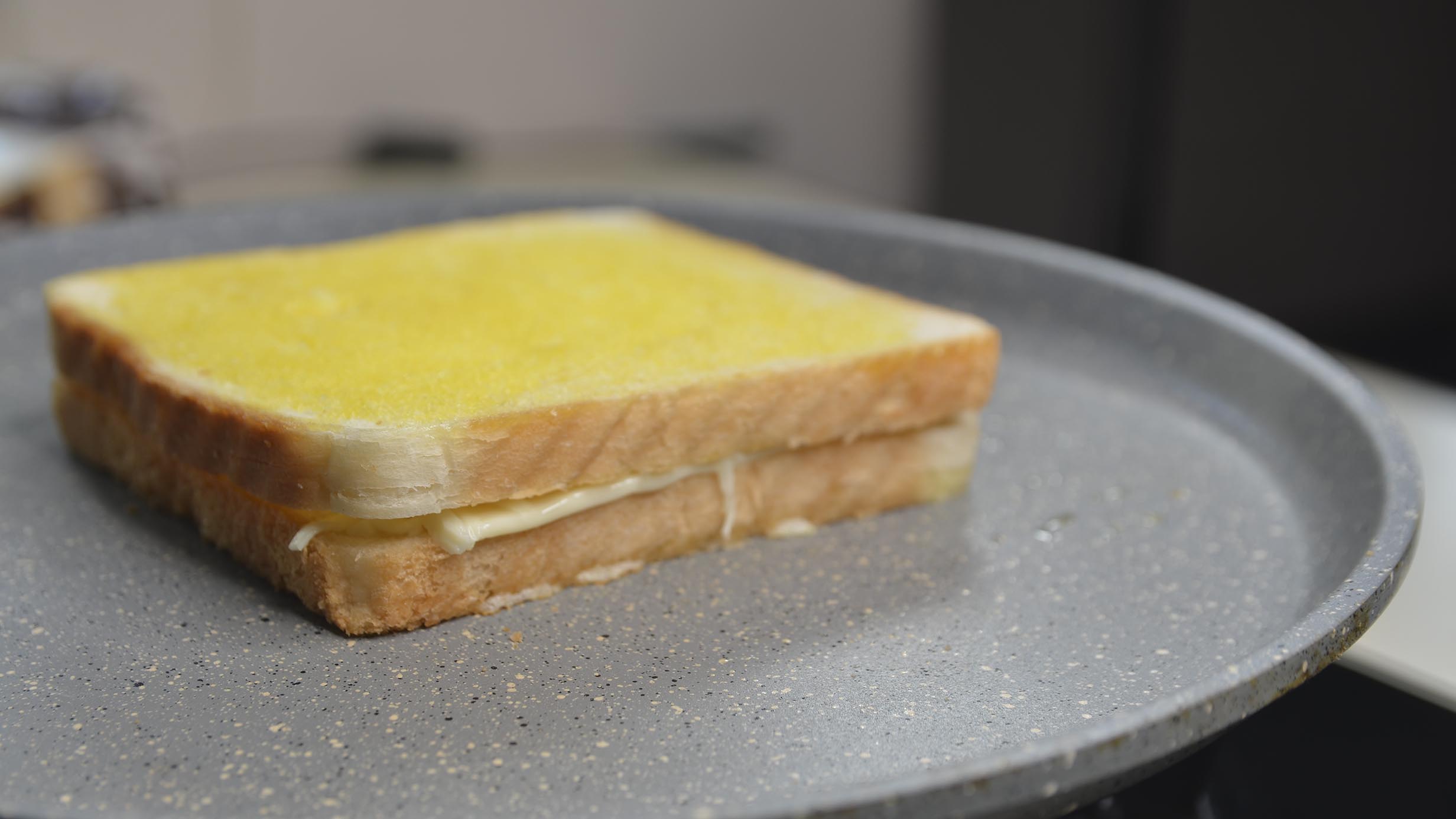 As you can see, the unbuttered side of the slice is still on top, and we will nicely put the processed cheese slice. Top with mozzarella cheese and stack two slices together, keeping the processed cheese within.
Cook for a few minutes on the greased side before flipping. Here we go, it's thoroughly cooked and golden brown.
Cook the opposite side in the same manner, keeping the temperature low so the butter cooks while the processed cheese slice and mozzarella cheese melts.
Guess what our Perfect Grilled Cheese Sandwich is ready to serve, I know that seems weird but that's how long it takes:).
Consider the following:
Gentle Heat:
To prepare the ideal grilled cheese, you must be patient. Maintain a low heat to allow the cheese to completely melt while the bread toasts and crisps. Reduce the heat if the browning is too rapid.
Adding additional butter:
The quantity of butter may seem excessive, but it is necessary for a crispy surface.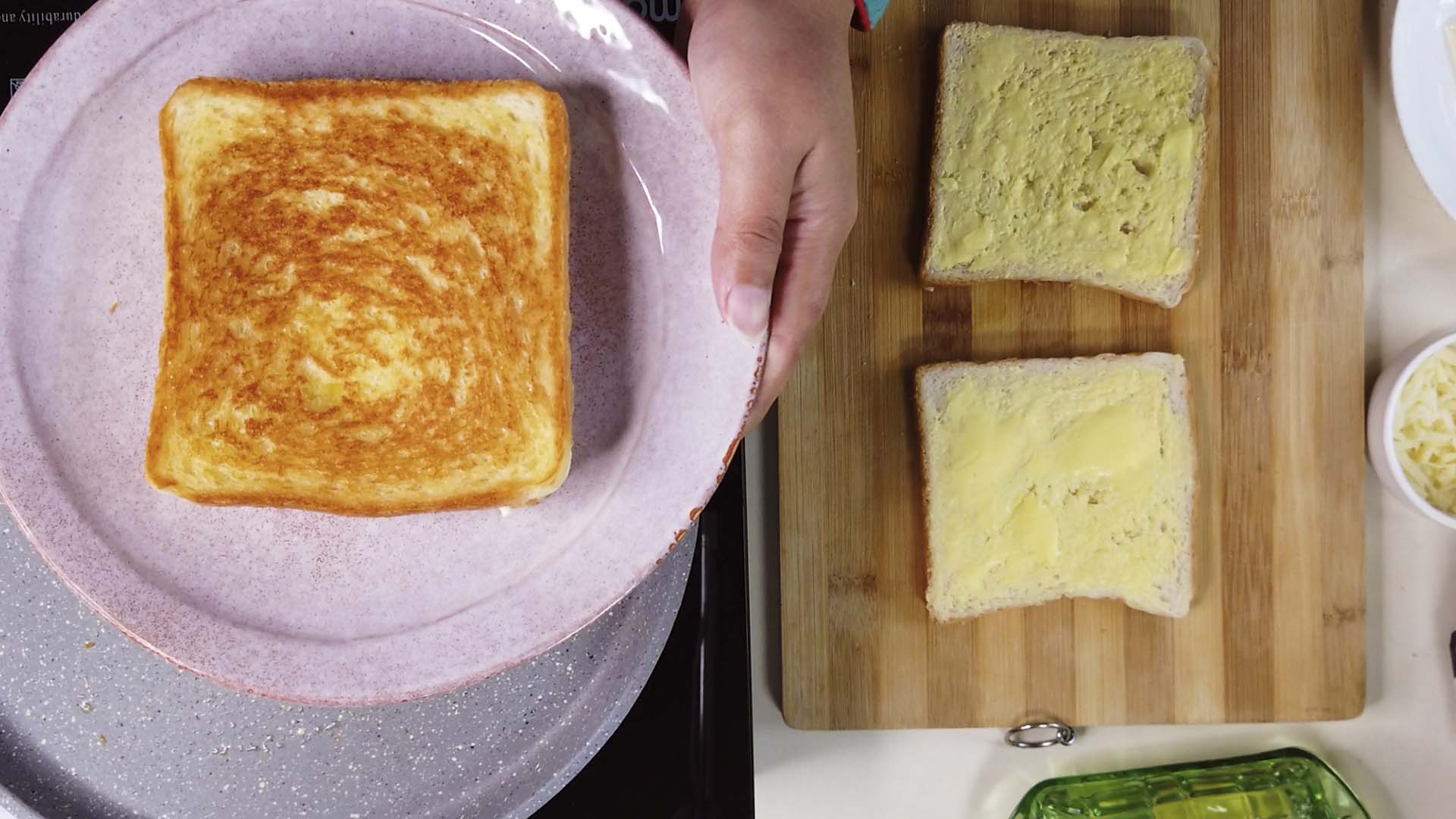 Sandwich Bread:
You want bread that is 3/4′′ to 1′′ thick, but not too thick, or your cheese will not melt correctly. Using relatively thin bread results in a fragile and occasionally moist sandwich.
Consume later:
You may prepare this sandwich ahead of time; just cool to room temperature before covering and refrigerating for 3 to 5 days. Ideally, reheat it in the same manner in which it was prepared. You may reheat this cold sandwich on a hot pan or in the microwave, although the latter will soften the bread and lose its crunch:).
Variations:
There are some variations to this recipe that you can try.
You may use mayo instead of butter, but this will soften the toast, while butter helps make the bread crispy, which you will like. However, if you want soft bread for mayo.
I kept this sandwich basic, but if you like it hot, sprinkle with the ingredients listed below.
Cheese with black pepper and/or

Oregano (dried) and/or

Chipotle Flakes

Salt with Garlic
If you want to add some extra flavor, you may also use tomato sauce.
#Cheesesandwich #Grilledcheesetoast #Grilledcheesesandwich
Sign Up and be our Partners in Taste
Please Subscribe to our YouTube Channel if you liked this Grilled Cheese Sandwich Also Click the BELL icon so you can be the first one to get notification of Taste with Taj new video). Thank you for signing up. It means a lot to me.
Filming and Post Processing :
Gallery pictures