Recipes of Ramadan Fruit Chaat
This is one of the delicious Ramadan fruit chaat recipes. Let's go through how to prepare spicy fruit chaat in Ramadan with chaat masala / black pepper and cut fruits. The more fruits you slice into little pieces, the more you'll love this recipe.
On my channel, you will find a variety of chaat recipes, such as chana chaat recipes and new fruit chaat recipes. Some of them were shared in 2022, while others were shared in Ramadan 2021.  A well-known dessert from the subcontinent's food street is now world-wide recognized, and although it may be served as dessert after a meal, I like to eat it on its own since it leaves an unforgettable taste on the tongue.
Fruit Chaat requires the following ingredients:
🍑 Peach
🍑 Golden Apple
🍑 Apricots
🍑 Mango
🍑 Pear
🍑 Banana
🍑 Grapes
🍑 ½ Cup Sugar Syrup
🍑 Chaat Masala
🍑 Orange Juice
Spicy Fruit Chaat Recipe Directions:
In this recipe, I emphasized keeping it healthy by avoiding using any artificial flavors or sweeteners ( syrup is made from sugar in house, and I know white sugar is not that healthy). I even used fresh orange juice as a juice. But, as I always say, changes in any recipe are always there for you to handle as needed. Continue to explore and discover new flavors.
Cutting fruits into small pieces:
As previously said, if we slice fruits into smaller pieces, you will love the flavour more. So this step is the most time-consuming when  you'll need to chop peach, golden apple, apricot, mango, pear, banana, and grapes into little pieces.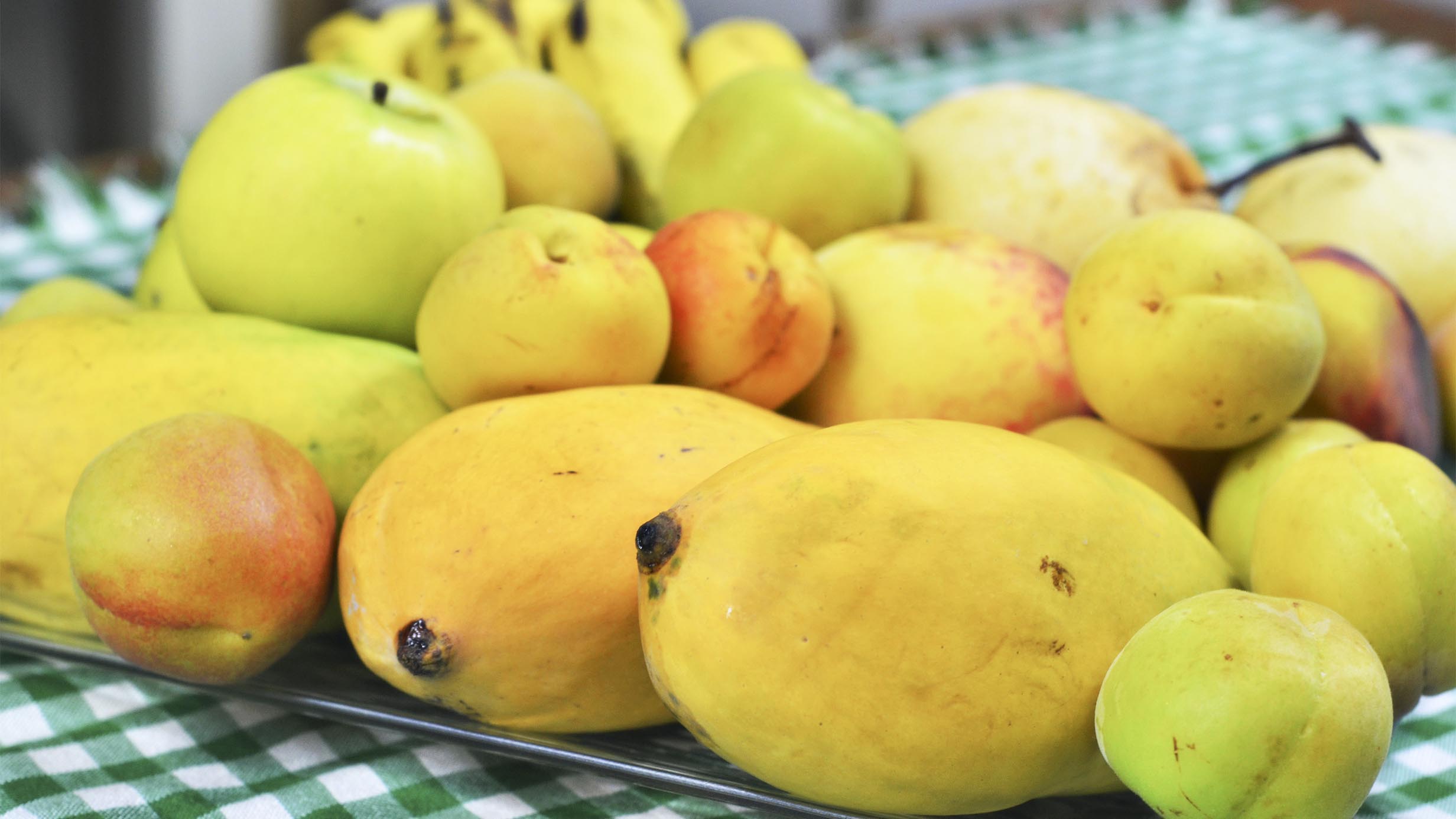 Other stuff:
Now stir in 1/2 cup of homemade sugar syrup. Add additional chaat masala to taste if you want spicy chaat. Please mix as thoroughly as possible using a large spoon. When you believe everything is nicely combined, immediately add fresh orange juice.
Some helpful hints and suggestions for creating an optimal and flawless fruit chaat recipe:
There are no hard and fast rules when it comes to the fruit mix for this recipe. However, be sure to use a variety of sweet, sour, and juicy fruits.
Once cooked, the recipe must be served immediately. Otherwise, after the spices are applied, it may leak moisture and might become soggy and mushy.
Because children like varied flavors and colors, you may use fruits such as oranges, strawberries, blueberries, and grapes.
Subcontinental traditional iftar foods like pakoras and samosas may be very heavy due to their deep frying, but fruit chaat serves as a pleasant side and palate cleanser. Fruits are very nutritious and give much-needed energy.
Variations on fruit chaat:
Fruits:
The charm of fruit chaat is that it can be made with almost any fruit. However, it is best prepared with seasonal fruit, thus a winter fruit chaat will have a different set of components than a summer fruit chaat. The fruit used in a fruit chaat is determined by the variety of fruits available in your country as well as personal taste. Other fruits, such as oranges, mangoes, peaches, nectarines, pomegranates, strawberries, kiwifruit, and blueberries, are added based on availability.
Chaat masala or a suitable substitute:
Chaat masala is a spicy and tangy spice blend prepared from a variety of spices. It's utilised in Subcontinent food street chaat dishes like chana chaat (spicy chickpea salad) and aloo chana chaat (potato and chickpea salad). It is often sprinkled over fruits and vegetables as a form of seasoning salt.
If you don't have chaat masala, use salt, black pepper, and lemon juice instead. You may also use black salt if you have it.
Futher Types:
I want my fruit chaat to be basic, with just fruits, spices, and orange juice. However, there are other popular fruit chaat varieties, such as:
Creamy fruit chaat:
Condensed milk and cream, as well as dried fruits and nuts, are added to this fruit chaat variation. It's extremely rich, and it's more of a dessert recipe.
Chickpeas:
I'm not a lover of chickpeas, but some folks prefer to add boiled chickpeas (chole) to their fruit chaat. Chickpeas Chat is also available on my blog & channel.
Canned fruit / fruit cocktail:
Canned fruit, such as pineapple or canned fruit cocktail, is used for fruit chaat in addition to fresh fruit. Canned fruit has a pleasant flavor, but be aware that it is rather sugary.
Ramzan Mubarak to all. Ramdan is Holy month and a special one for Muslims where we seek forgiveness from Allah Al Mighty and no doubt a healthy repairs of body take places. In month of Ramadan please enjoy meal but make sure to reduce the amount of meal and eat healthy. Do pray for yourself and all others that will make your Ramadan more beautiful
Sign Up and be our Partners in Taste
Please Subscribe to our YouTube Channel if you liked this Fruit Chaat Recipe Also Click the BELL icon so you can be the first one to get notification of Taste with Taj new video). Thank you for signing up. It means a lot to me.
Gallery pictures